If you spent any time in the video store when the shelves were stocked with VHS tapes, the company Media Home Entertainment is probably one you're aware of. Founded in 1978 by Full Moon's Charles Band, the company actually began its life as
Meda Home Entertainment
, named after Charles' wife at the time, Meda Band. Meda was one of the first companies to provide VHS tapes to rental chains, and quickly caught on as one of the leading independent home video distributors in the country.
In the early 80s, Meda Home Entertainment was renamed
Media Home Entertainment
after Band's departure from the company (he went on to found Wizard Video), and the newly named company rose even further to prominence as one of the true superstars of the VHS boom.
Though they didn't focus solely on horror, Meda/Media released a slew of fan favorite horror films during their reign of terror in the video store, including Halloween, Texas Chainsaw Massacre 1 & 2, Sleepaway Camp, Maniac and the first five films in the Nightmare On Elm Street franchise.
A powerhouse when it came to promoting their new releases in video stores, Media in 1986 changed the way posters were displayed in stores, by replacing the typical thumbtacks with an impressive light box, which was branded with their logo. Whenever a new release was set to come out, Media would send out plastic 3D poster inserts to the stores that had the boxes, and the inserts were slipped by store owners into the box, thus creating a lit up poster that attracted the attention of customers a whole lot more than a simple poster tacked to the wall ever could.
In this installment of
Vintage Video Store Displays
, we take a look at the light box insert that Media created for one of my personal favorite horror movies of all time;
Nightmare On Elm Street 4: The Dream Master
.
Now this....is a goddamn movie poster!!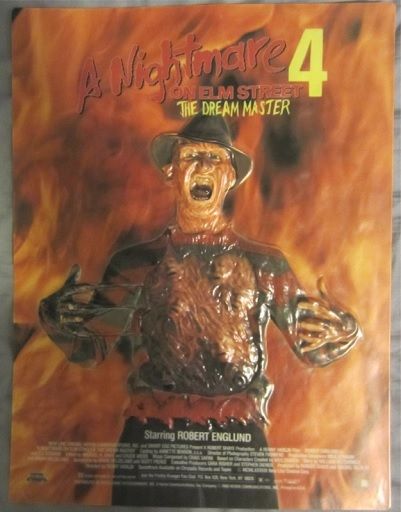 At the time of writing this post, there are two of these selling on eBay,
one for $190
and
the other for $124.99
. They likely won't last long on there, as Media's light box inserts are highly sought after by hardcore collectors. So if you ever find one you want, snatch it up while you've got the chance!
**Big thanks to reader Richard Schmid, without whom this post wouldn't have been possible!**
As always, we wrap things up here in the Vintage Video Store with one last little nugget of nostalgic goodness; an original vintage Dream Master trailer. Enjoy. And remember; the video shops only stay alive if we keep their memory alive!