New art from Rob Zombie's upcoming film Tyrannosaurus Rex has hit the net :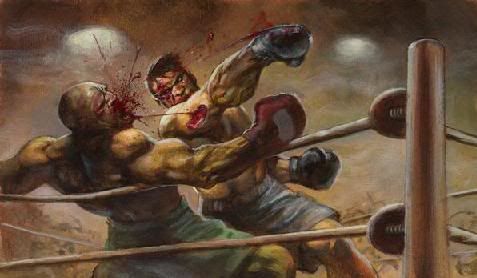 Details on the film are still sketchy and in the dark. Some have speculated that the film is based on Rob Zombie's comic book The Nail, which was about a pro wrestler named Rex on the run from a satanic biker gang. While it seems fairly obvious that the comic will be the basis for this film, Zombie has denied these rumors. Looks like Rex could be a boxer. Perhaps a slight tweak on the comic book. No matter what it's about, the movie is set to hit theaters on August 28th of next year.
Rob's wife, Sheri Moon, has already been announced as being in the film. No Suprise there. You can probably expect to see Zombie collaborators Danny Trejo, Ken Foree, Bill Moseley and Sid Haig in it also.
House of 1000 Corpses and Devil's Rejects are two of my favorite horror films in the past several years. It looks like Rob is leaving the mess of Halloween behind him and giving us one hell of a show once again.