He scared the hell out of you as the deformed mutant Pluto in the remake of The Hills Have Eyes, but what is the man behind the mask like and just what does he look like?
Michael Bailey Smith was born November 2nd, 1957 in Alpena, Michigan. After serving as a paratrooper in the renowned 82nd Airborne Division, Bailey turned to the athletics. His dream was to be a football star and he came pretty damn close to fulfilling that dream. Smith attended college at Easter Michigan University where his talents netted him a spot as a free agent with the Dallas Cowboys. Unforunately for him and fortunately for us horror fans, Smith's career was cut short by an injury.
So how did acting come into play? In 1989, Smith tagged along with a friend to an audition for Nightmare on Elm Street 5 : Dream Child. While there, he was spotted and picked up for the role of Super Freddy. Super Freddy?! That's right. Faster then a bastard maniac! Let me refresh your memory. Comic book geek Mark falls asleep while reading comics and gets pulled into a comic induced fantasy world. Wet dream on any normal occasion for Mark, but not this one. Freddy can do whatever the fuck he wants, so he morphs into Super Freddy! Check it out :
Very interesting to note ; Smith's brief little role in Dream Child cemented his position in the history books as the only person other then Robert Englund to play Freddy Krueger.
Following Dream Child, Smith went on to have roles in a number of films including Renegade, the unreleased low budget 1994 Fantastic Four, and Cyborg 3. In 2002 he was featured in Men in Black 2. In '03 he played the titular character in the cult horror hit Monster Man. He has also appeared in many popular television shows such as Star Trek, Wings, X-Files, Charmed, and most recently the O.C, My Name is Earl and Desperate Housewives.
Smith was not yet done with the Hills Have Eyes. In 2006 he returned for the sequel, this time playing the mutant Papa Hades. In a little tie in to his role in the remake, Hades is actually the Greek version of Pluto.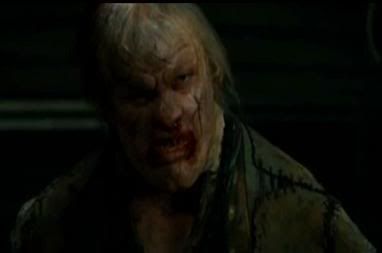 Bailey Smith currently resides in California with his wife and two kids and will next be seen in the films Corrado, Chain Letter, and Blood Shot.
Check Out His Offical Site!

Add Him On Myspace!