Believe it or not, over the course of 12 Friday the 13th films (counting the upcoming remake) Jason Voorhees has been essenially played by 13 (14 technically)different actors. That's gotta be a record. That may not add up, but read on, it'll all come together. That number is even more astonishing given the fact that, in four of the films, Jason was played by the same dude. Interestingly enough, Jason was never even intended to carry the Friday the 13th series. Talk about a happy accident. Save for a tiny scene at the end as a child, Jason was not even seen in the original Friday the 13th and he never even got his trademark hockey mask until the third installment. As was seen in Scream, those are little bits of trivia you can pretty much fool any casual genre with. But in any event, just who are these 11 men who have played Jason and where the hell have they been since they took off the mask? Let's go on a little journey through the back woods of Camp Crystal Lake.
Friday the 13th - Ari Lehman
I'm not sure which is scarier...him as a young undead Jason or him now. Ari Lehman was only 15 years old when he tackled the first incarnation of everyone's favorite masked killer. This still does not land him in the record books as the youngest actor to play the role, however. The story goes that Ari went to the Friday casting session to read for the role of Jack. When director Sean Cunningham landed eyes on him, he said to him "You're the right size, you've got it." And the rest is history.
Since Friday, Lehman went on to have roles in horror films such as ThanXgiving and is currently working on the movies Hell-phone, Terror Overload, and Black Friday, a film rife with genre favs. Lehman's real love is music, however. He currently has a punk metal band titled First Jason. Ari can still be seen at various horror conventions around the globe.
Friday the 13th Part 2 - Warrington Gillette/Steve Dash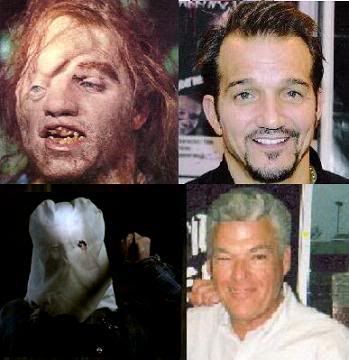 This one is the subject of much controversy. While Warrington Gillette is widely credited as having played Jason in Part 2, it was actually Steve Dash who played the role for the majority of the film. Gillette was originally hired for the part, but when the studio realized he didn't have what it took in terms of stunt work abilities, they brought on Steve Dash to take over. Gillette was brought in only for the brief unmasking scene at the end of the film and yet Dash was not credited for the role he played. He merely recieved a stuntman credit. This wrong was somewhat righted in Part 3 when Dash was given his rightful credit for the Part 2 flashback sequence in the beginning of the film.
Gillette has only had two film roles since Friday 2, Penny Dreadful and Time Walker. Dash appeared in 1982's Alone in the Dark and did the stuntwork for the film F/X. He has not appeared on screen in any shape or form since the late 80's. You can still catch Dash and Gillette battling it out for "the real part 2 Jason" rights at various conventions and interviews on the web.
Friday the 13th Part 3 - Richard Brooker

The director of Part 3, Steve Miner, wanted a leaner and more athletic person to play Jason in this one. In came to play former trapeze artist Richard Brooker. Brooker, born in the UK, figured that playing a masked psycho killer would be the perfect way to break into Hollywood. Since the film, however, he only went on to star in two films and is currently working on Black Friday, along with first Jason Ari Lehman. Speaking of firsts, Brooker will go down in history as the first actor to don the hockey mask. Brooker may well be my favorite of the actors who have played Jason. I've hung out with a drunk Brook at conventions and tried to pick up women with him, so he will always have a special place in my heart. And let me tell you, playing Jason, even once, will get ya laid.
Friday The 13th Part 4 : The Final Chapter - Ted White
If you take a look at the credits for this film, you will not see the name Ted White. This is because after the filming was completed, White decided he did not want his name on the film. He initally stated the role made him feel uneasy but later went on to say he didn't want to be a part of "a total piece of shit." He later said Part 4 was better made then the rest of the films in the series, a point on which many fans agree. He probably realized this is his one and only claim to fame and he better live it up. While he took the role solely for the money, White did get into the character. He did not speak to the actors on set as he felt it would diminish their fear of him when he appeared on screen. White is considered by many to be the best Jason, despite his negative talks about the role. While he has done a lot of acting work since, White is a stuntman at heart, having contributed to the films Gone in 60 Seconds, Wild Wild West, and Escape From New York.
-Friday the 13th Part 5 : A New Beginning - Tom Morga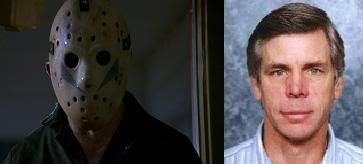 Jason was sadly not in this film, a departure franchises often unfortunately take. We thought we were watching Voorhees in action but at the end of the film we realized it was actually the lowely ambulance driver, Roy, in Jason costume. Richard Wieand played Roy.
For the sequences where Roy was dressed as Jason, it was actually not Wieand, but Tom Morga. Wieand was famously not excited over playing the role of Roy/Jason and reportedly spent most of the time on set in his trailer alone. While he went on to not do much post Part 5, Tom Morga, who was very excited about playing "Jason" has gone on to do stuntwork for many major motion pictures including Independence Day, Spider Man, National Treasure, and the Pirates of the Carribean films.
Friday the 13th Part 6 : Jason Lives - Dan Bradley/C.J Graham
Dan Bradley was originally hired to play Jason. In fact, they even began filming the movie with him in the role. The producers decided he was just not the right build for the character, so they brought in a nightclub manager, C.J Graham, to take over. The paintball scene which Bradley had already shot remains in the film, with all other scenes of Jason portayed by Graham. While Graham had no experience as a stunt man, he insisted on doing most of his own stunts, including being set on fire.
While Graham ousted Bradley, it is Bradley who has the last laugh. Dan Bradley has gone on to have considerable success as a stunt coordinator on films like Spiderman 3, The Bourne Ultimatum, and Donnie Darko as well as being second unit director on Indiana Jones and The Kingdom of the Crystal Skull, Spiderman 2 and 3, Superman Returns, and the upcoming James Bond flick Quantum of Solace. Graham, on the other hand, has not been seen in Hollywood in almost two decades.
Friday the 13th Part 7 : The New Blood/Part 8 : Jason Takes Manhattan/Jason Goes to Hell/Jason X - Kane Hodder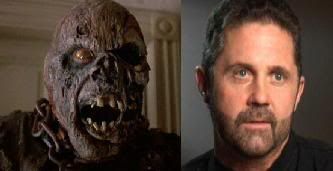 Widely considered by most Friday fans as "the real Jason", Kane Hodder has played the character in four different films, more then any other actor. In fact, he's the only actor to tackle the role more then once. Hodder has appeared as an actor and/or stuntman in films like Texas Chainsaw 3, Seven, Spawn, The Devil's Rejects, and Hatchet. When all is said and done, no matter how many Friday films we see in the future, it is my belief that Kane Hodder will forever be known as Jason Voorhees to a plethora of admirers.
As a side note on Jason Takes Manhattan, a young Jason appeared briefly in the film and was played by Timothy Burr Mirkovich, who has since become a film editor, last working on Pineapple Express.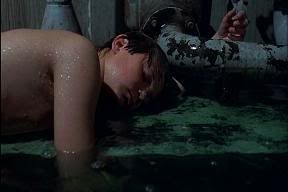 Freddy vs Jason - Ken Kirzinger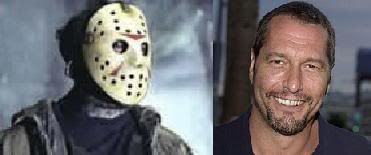 Many many fans were very very upset to learn that Kane Hodder had been replaced. Hodder was originally in talks to tackle the role once again, but director Ronny Yu wanted to go in a new direction. Interestingly enough, Kirzinger doubled for Hodder in a few scenes in Jason Takes Manhattan. While mostly doing tv work before and after FVJ, Kirzinger provided stunt work for the films X2, X Men : The Last Stand, The Fog, and the upcoming Joy Ride sequel, Dead Ahead.
Again, like Jason Takes Manhattan, a young Jason was very briefly featured, this time played by 13 year old Spencer Stump.
Freddy vs Jason is thus far Stump's only credit.
Friday the 13th (Remake) - Derek Mears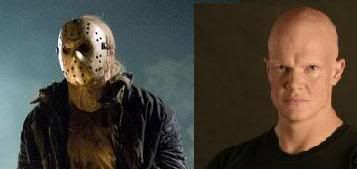 Derek Mears, who has done stunt work for Pirates of the Carribean and Indiana Jones : Kingdom of the Crystal Skull, and who has appeared in horror films Cursed and the Hills Have Eyes 2, will be the next actor to tackle Voorhees. All of the actors who have played the role previously have done a pretty damn good job and there's no reason to believe that Mears won't follow suit. He's certaintly got the size and strength. And just look at that mug.
13 actors. One badass masked villain. Who is your favorite actor to play Jason Voorhees? Leave a comment and let me know!