It has now been 35 years since one of the greatest most classic horror films of all time made its presence known. The Exorcist was released in 1973 and spawned two sequels and even two prequels. But where have the original cast members, who have managed to scare the holy hell out of us for over 30 years. been?
Linda Blair - Regan
THEN
An unknown at the time, Linda Blair was pretty much the last person who was originally being looked at for the role of Regan. Director William Friedkin claims that due to the excruciating search to find a young girl suitable for the role, he even briefly considered auditioning adult midget actors. Obviously, Blair triumphed and will forever be best known as Regan, the pea soup spewing little demon for which she was even nominated for the Best Supporting Actress Oscar as well as winning a Golden Globe and People's Choice Award. Her Oscar hopes and dreams were dashed when the news leaked that it was actually a different actress, the late Mercedes McCambridge, who voiced the demon along with liberal use of a dummy. So where did the promising young actress go from there?
NOW
Post Exorcist, Blair landed roles in several successful television films before reprising her role as Regan in Exorcist 2 : The Heretic in 1977. The film's flop killed almost all of the momentum Blair had going for her. In late 1977, she was arrested for cocaine and amphetamine possession. Over the next few decades, she appeared in many not so well known low budget films before once again going to the Exorcist well for the spoof film, Repossessed. In the 2000's she hosted Fox Family's series The Scariest Places on Earth. Most recently, Blair appeared in an episode of Supernatural which payed homage to her role in the Exorcist. Now 49 years old, she owns a charity, the Linda Blair Worldheart Foundation, dedicated to the prevention of cruelty to animals. While she's got almost 40 film credits to her name, I think it's safe to say Linda Blair did not live up to the post Exorcist hype and will forever be linked solely to the film.
Ellen Burstyn - Chris MacNeil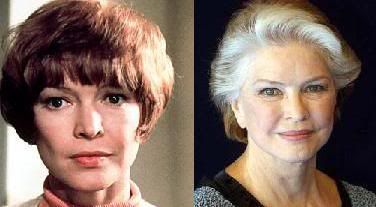 THEN
Jane Fonda, Shirley MacLaine, Anne Bancroft and even Audrey Hepburn were approached to play the role of Chris, which eventually went to Ellen Burstyn. Burstyn had already had considerable success pre Exorcist, netting a nomination for Best Supporting Actress for The Last Picture Show. Burstyn got the Best Actress nom for her role in The Exorcist.
NOW
Post Exorcist was a rocky road in the personal life of Burstyn. After divorcing her third husband in 1972, she was stalked by him over a period of 10 years and even raped, which went unpunished. The drama finally culminated in 1978 in the man's suicide. But Bursytn triumphed. She went on to win the Best Actress Academy Award for Martin Scorsese's Alice Doesn't Live Here Anymore in 1974 and was also nominated several times over the next few decades for the films Same Time Next Year , Resurrection, and Requiem For A Dream. Her latest film appeareances were roles in the films The Fountain and The Wicker Man and a tv appearance on HBO's Big Love. The 75 year old Burstyn will next be seen in Oliver Stone's upcoming George W. Bush film, W.
Max Von Sydow - Father Lankester Merrin
THEN
As was the case with most actors in the film due to director William Friedkin wanting a lesser known cast, the studios desire for Marlon Brando to play Father Merrin was denied in favor of Sydow. Sydow had a long career in film pre Exorcist, mostly in his native Sweden. The Exorcist brought Sydow onto the radar of American audiences and garnered him Golden Globe nominations.
NOW
Sydow went on to reprise his role as Father Merrin in the Exorcist 2. He has went on to star in many successful American films including Never Say Never Again, Dune, Minority Report, Rush Hour 3, and The Diving Bell and the Butterfly. The 79 year old Sydow currently lives in Paris with his wife where he enjoys reading, listening to music, and gardening. He has stated that as long as he continues to get decent roles, Max has no intentions of retiring from the world of acting. He currently has several films in production.
Jason Miller - Father Damien Karras
THEN
Jason Miller, the father of Lost Boys actor Jason Patric, had never appeared in a film before strapping on a bottle of holy water for The Exorcist. Director Friedkin spotted Miller in a Broadway play and decided he wanted him over Jack Nicholson, Stacy Keach, and Gene Hackman. Keach had already been signed on for the role, but Warner Bros. bought out his contract so Miller could have the role. Talk about pressure. Miller lived up to Friedkin's hopes when he got the Academy Award nom for Best Supporting Actor.
NOW
Miller continued to have a career in film after The Exorcist, but he preferred to continue his work in the theatre, where he was both actor and Pulitzer Prize winning playwright. Miller did however slap on the robe one more time for a reprisal of his role as Father Karras in the failed Exorcist 3 in 1990. Sadly, in 2001 at the age of 62, Miller died of a heart attack in Scranton, Pennysylvania. My apologies for the poor taste of the above image but everyone else got a "now" photo...
William Friedkin - Director
Friedkin was nominated for 8 Oscars and won 5, including Best Director, two years prior to the Exorcist with The French Connection. While he didn't win the Best Director statue for Exorcist, it was nominated for 10 different awards. Post Exorcist, Friedkin has directed the films Rules of Engagement, The Hunted, and his most recent work, Bug. He last directed an episode of CSI and currently has no projects in production.
I'm sure you've heard of the "Exorcist Curse" or even seen the E! True Hollywood Story on it. Apparently, several crew members were killed during the filming of the movie. Some suggest there was some kind of demonic force trying to prevent the film from being made. There are rumors of anywhere from four to nine people dying during the 15 month filming period. Max Von Sydow's brother and Linda Blair's Grandfather's lives ended while filming was in progress. Another rumor is that the set caught on fire one night when no one was there, with no explanation. Some claim that heart attacks were occuring all over the areas where the film was premiered and that even a huge 400 year old cross was struck by lightning during the premiere in Rome. Whether any of these rumors are true or not, it should be noted that John Frankenheimer, the original director of the Exorcist Prequel The Beginning, died shortly before filming began. Cursed or not the Exorcist will forever remain one of the scariest horror films of all time.