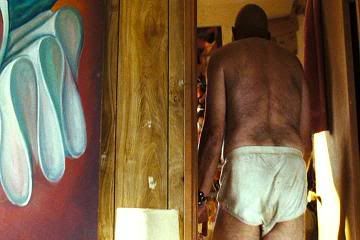 You wouldn't think so, right? But then again did you think Turbo Man would end up being governor of California?
I'm bettin it was the furthest thing from your mind. Yet he managed to jingle all the way into the position.
Several years back, as part of the merchandising for House of 1000 Corpses, Captain Spaulding For President shirts were made. A novelty at the time, but it looks like it's no longer such a novelty. Well, it still is, but bear with me.
Barack O-Who!? John McWhat!?
Sid Haig
has officially announced his candidacy for the President of the United States of America. Yes, that's right. Captain Spaulding is running for President. Now of course you're not gonna be able to flip the switch next to his name in that little claustrophobic voting booth (which I have proudly not stepped foot in since a voting demonstration at my former high school wherein I was forced to do so), Haig is merely a "write-in candidate." This means that you may vote for him by simply writing in his name on a piece of paper. This also means pretty much anyone can "run for president", even a dolt like me. While this seems to be completely ridiculous, it doesn't look like Haig's doing it for kicks. Although it appears this is more about sending a message then Haig actually trying to get a seat in the White House...I hope...
Check out his opening remarks from a "Town Hall meeting" at a recent horror convention :
And here are his plans on taxes if he is elected :
And finally, some more scattered thoughts :
Sid Haig, we love you, but this is a bit silly. So silly in fact that I am voting for you! Ya see, I couldn't care less about politics. I don't vote. I don't know much aside from the fact that we're currently in a war where people are dying and we don't like it nor do we like that dumb guy who made it happen. Hell, i'm not even registered to vote. But if Sid motherfuckin' Haig is running for President, i'm signing up! Im heading to wherever you place your votes and I am writing his name down! Did I stutter bitch!? Now if we can just get Bill Moseley for Vice-President we'll be in business. Vote Haig this November!