So i've had what some would call a pretty eventful evening. Early on in the night I started decorating outside. (By the way, in case you missed my indoor decorations,
check 'em out!
) Didn't do all that much but I got a couple things accomplished and am hoping to do a lot more in the near future. Note how everything's far away from the grimy hands of would be thieves. I don't think anyone will be monkeying up my tree to steal a 4 dollar plastic skeleton prop. Least I hope not, that'd be a little sad. Here's a few pictures I took of what i've done so far :
Got the traditional orange lights up and put some 'caution' tape on the porch so the trick or treaters will feel like they've come to a house they wont regret coming to...or is it
will
regret coming to? That fuckin dude from The Strangers fucked up my shot. Motherfucker.
Hung this half skeleton guy from the tree. I had to scale a large ladder up an even larger tree to accomplish this one. Almost pulled a Clark W. Griswold. If you get the reference, you are eternally my best friend. By the way, they really need to make a National Lampoon's Halloween Vacation and Chevy Chase better start being funny again in it.
Ok, so that's really all I did for now, but I feel pretty accomplished. It's the most effort i've exerted in a good long while. Mine is just about the only house in the neighborhood that has any kind of Halloween decorations out so i'm very proud of myself at the moment. And I feel I much deserved the pleasures which came to me once the sun set...
Thursday nights have started to become drunken movie night with me and my group of derelict friends and tonight we watched a little 70's gem called "Hard Gore". We discovered that it was pretty much a hardcore porn film with minute amounts of gore spliced in every so often. Things like throats being sliced and dicks being cut off. In so many words the 'movie' is about a nymphomaniac (that's sex addict) who goes to some kind of hospital for treatment. While there, she has a lot of lesbian sex then gets raped and finds out the hospital houses a satanic cult who happen to be quite keen on orgys, necrophilia, and pillow fucking among other reprehensible acts. I will say, i've gotta give it to this movie for introducing me to my first ever doggy style guillotine scene. Use your imagination. Suffice to say, if I ever find myself at the doors of Elite Hunting, I know how i'm gonna dispatch my innocent victim. I was also introduced to my first ever 'rocket dick' scene. No need for imagination, I took a screen grab :
Quite an experience, I must say. Gotta love 70's hairy bush goreno. I'm pretty sure the 'gore' parts of the film were purely thrown in there to allow a bunch of dudes to sit around and watch porn together without feeling too guilty/gay about it. And I guess it worked. But I do feel like I might need an acid shower right now.
To boot, this was all seen on the big screen. I rigged up a pretty nice projector in my garage during the summer and it's provided us all many a good night. And now for the virtual tour :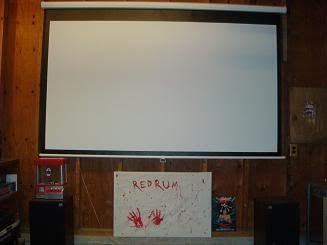 That little thing proudly displayed on the wall to the right is my Shining inspired art piece :
The garage is also fitted with it's own bar, chock full of hundreds of different beer and liquor bottles (granted all empty), ruled over by King Voorhees :
And I feel I must mention the Bruce Campbell beer bottle opener which I fashioned :
If only I can get it to spew witty Evil Deadian catch phrases each time it pulls a cap off....and yes, it works like a charm.
Here's a picture of the projector in action during a screening of Fulci's The Beyond :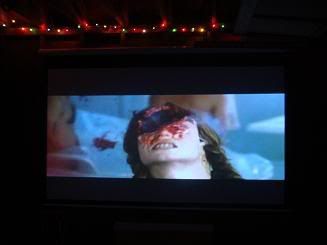 What more could a man ask for?
I realize this post is very picture heavy but i'm really too drunk to type too much and if I did it really wouldn't make all that much sense and besides, I think you'd rather look at pictures anyway.
On a complete side note, speaking of pictures, I found this picture of the French Saw V poster, which is pretty badass. Aren't foreign horror posters always?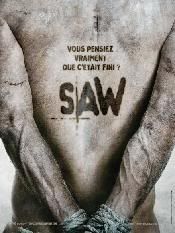 If it sounds like i'm in a rush here, I kind of am. A rush to lay my weary head to rest and pass out on the glorious unmade bed to my left. I probably wont be posting the next couple days considering i'm going to a wedding Saturday and, well, I really never post much on the weekends anyway. So have a good one everyone and i'll see ya soon!