The fourth installment of Joe Lynch (Wrong Turn 2) and Adam Green's (Hatchet) road to FrightFest shenanigans, titled
Best Directors
, has hit the net and it features John Landis! Enjoy.
For the previous three videos, check out Adam Green's
Ariescope Pictures
.
By the way, if you haven't seen Wrong Turn 2 and were thinking it must be even worse then the first one, you'd be wrong. Lynch (a fellow Long Islander!) did an awesome job on it and it's actually a pretty kickass little movie and I don't only say that because he's probably on the same island as me right now. Come on, Henry Rollins in a gory winner takes all battle with a bunch of inbred rednecks...what's not to love!
The fifth and final FrightFest promo will be available next Monday.
My uncle's wedding that I went to Saturday that I mentioned a couple posts back was actually a pretty good time. Open bar and free food, you really can't complain. It's still amazing to me to see the transformations of personality that take place after a couple of drinks. Boring family members may not be so boring when they're plied up with a little booze!
Went pumpkin picking today and got a pretty large 30 pound monster. Carved him up a few hours ago...well, I pretty much gutted him and played around with his insides while my girlfriend utilized her artistic prowess to cut him a face. Here she is proudly displaying (and attacking) her handy work :
This thing was 20 bucks and i'll be damned if I didn't try to make the most of that 20 bucks as possible.
First off, don't throw away those seeds! Wash all those pumpkin embriotic fluids off of them and bake 'em up in the oven. They're pretty tasty. Actually, they kinda suck but i'm trying to convince myself of the opposite. It's hard to admit defeat.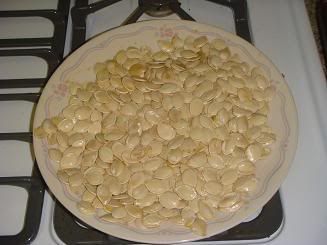 And second, don't throw those guts away! Cover them with fake (or real if you prefer) blood and use them as gore in that horror movie you and you friends have been talking about making for 10 years now and probably at this point never will cause let's face it you're just too old and too committed to life's monotonies and responsibilites by now!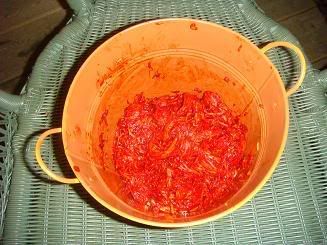 Mmmm. Here's what I made of all that mess :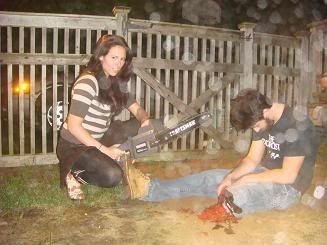 Dig a small hole to fit your leg and bury it up to the point you want it severed and then toss around the blood and guts! Doesn't get much simpler then that!
A beautiful advertisement for Craftsman if ya ask me. Got a bit of an inadvertant compliment from MySpace on these pictures ; apparently they were deemed too brutal and offensive and were taken down! That makes me proud.
I'll be rubbing this fake blood off of me for the next several weeks. Why would they make this stuff so goddamn stainy?
Now get out there and make that horror movie you've always wanted to make! You don't need to be Tom Savini to come up with some pretty cool (and cheap) gore effects. Just use that sick little imagination you've got up there somewhere. Then send me a free copy of your movie so I can commend your hard work and spread the word. Or bash it if it really sucks.
Will be watching this weeks True Blood tommorow. Hopefully it's better THAN (thank you anonymous commenter) the last one.
I guess that's all. Goodnight