Before I get into the horror dvd's being released this week, i'd like to say congratulations to William Howard for winning the Halloween Horror Nights Short Film Competition with his short
The Prank
! It was my personal pick to win and i'm glad it did! Check it out :
Ah, October is finally right around the corner. With it we can expect a plethora of great horror dvd releases, but don't count September out just yet! There's a few good ones this week, mostly for the Blu-ray fanatics.
From now on i'm just gonna be posting the important and cool sounding releases, or at least the one's that are important and cool sounding to me. I don't have the time to list 50 plus releases of b-movies every week. If ya wanna see every horror release for this week, go to
Amazon
.
BLU-RAYLand of the Dead (2005)
Dawn of the Dead (2004)
The Thing (1982)
This is the kind of movie i'd like to see in Blu-ray. I've heard it looks pretty spectacular.
Land, Dawn, and The Thing will also be released in a "Halloween Starter Pack" together :
The Texas Chainsaw Massacre (2003)
The Sixth Sense (1999)
DVDPulse 2 : Afterlife (2008)
This terrifying sequel that picks up where the original Pulse left off. The dead have found a way back to our world - through cell phones and WiFi - and the human survivors have taken to remote areas to escape. When a young girl goes missing, her father must return to the city to battle her mother's vengeful ghost, along with a host of other horrifying ghouls.
I've got no interest in this one, but I had to throw it on here. Pulse (remake) was a complete dud on all levels and I don't expect this one to be any better.
Rest Stop : Don't Look Back (2008)
One year after the disappearance of Jesse and Nicole, Jesse's brother Tom and two friends are on the trail. Although the police were unable to do anything, these three quickly stumble on the same path from a year before... encountering the religious family, the driver... and more. Will they meet the same fate?
Caught Rest Stop on tv a few years back and thought it blew, but I wasn't really paying too much attention. Will probably be checking both of these out soon and putting some reviews up.
A Haunting in Connecticut (2002)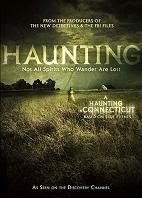 The day Karen and Ed Parker move into their dream home, ominous clues of its chilling funeral parlor past greet them: crucifixes on doors, toe tags and coffin keys in the basement. Their 14-year-old son, Paul, claims he sees apparitions and hears voices. Soon, the house is plagued by dark forces that torment the entire family, and it will take a desperate call to Edward and Lorraine Warren--investigators of the Amityville haunting--to offer any hope of relief.
A Haunting in Georgia (2002)
Based on true events, A Haunting in Georgia is the chilling story of four-year-old Heidi and her imaginary friends Mr. Gordy and Con. As Heidi reveals mysterious details about the two, her parents become concerned...could her playmates be more than make-believe? When the rest of the family begins experiencing terrifying phenomena--waking with deep gashes on their bodies--it seems there's little they can do to stop the escalating nightmare.
This show's awesome and actually manages to scare the hell outta me. I remember Connecticut being particularly good.
The Blood Spattered Bride (1972)
A beautiful young bride marries into a family with a dark secret and quickly becomes haunted by dreams of a mysterious woman. When her visions become flesh, the newlywed finds herself drawn into a nightmare of unholy communion, violent murder and forbidden sexual desires.
If Tarantino named a chapter in Kill Bill after this movie, it's gotta be somewhat good, right!? Been meaning to see this one for quite some time and I may just have to pick it up this week.
Pink Eye (2008)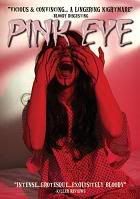 Pink Eye is set at a prison-like, dilapidated insane asylum where secret drug testing has gone horribly wrong. Patients are dying in sick and twisted ways, and those who survive are becoming raging homicidal lunatics. It's only a matter of time before all hell breaks loose and inmates crave the freedom to take their vengeance on the world outside. When one patient escapes--deformed, angry, and far beyond insane--he brings death and terror to an unsuspecting town and everyone in it.
A killer bout of pink eye? Count me in!
Necroville (2007)
Fired from their jobs as video store clerks, two Slackers must wage war on the living dead just to earn a living wage in a town overrun by Zombies, Vampires and Werewolves. Described by the Albuquerque press as if Kevin Smith wrote Ghostbusters , NECROVILLE follows long time friends Jack and Alex as they become members of the local extermination company, Zom-B-Gone, only to discover that even ravenous hordes of the undead pale in comparison to the horrors of Jack s nightmare girlfriend.
This one's either gonna be real funny or real obnoxious. Either way, I think it'll make fine drinking cinema.
On a horror dvd related note, I was in Wal-Mart earlier today and they had a bunch of classics for only $4.99. Titles like the original Dawn and Day of the Dead, Re-Animator, Children of the Corn, and the original Hills Have Eyes were all thrown in there. So check out your local Wal-Mart for those. Re-Animator had some pretty cool cover art that i've never seen before and I was tempted to pick it up even though I have two other versions of it.
Will be back in a bit with True Blood episode 4 thoughts.