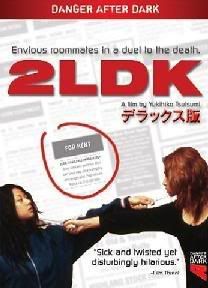 2LDK (which stands for 2-Bedroom, living room, dining room & kitchen) is a very simple movie. The movie entirely takes place inside the titular 2 bedroom apartment and deals with only two characters ; roomates Nozomi and Rana. The two women are both struggling actresses who are competing for not only the same movie role, but also the same boyfriend. Two American girls in this situation would just hop on Facebook and post crude messages on each others walls, but these ladies are Japanese and you can bet your sweet asses the motherfuckin' blood is gonna motherfuckin fly over this. Nozomi and Rana embark on a vicious battle to the death, grabbing a hold of whatever device of torture they can get their little Japanese hands on. And neither one of these ladies is gonna be happy until she's dancing around in the blood of the other.
Hot Japanese ladies using chainsaws, katanas, eggs, and poisonous bathtub sprays to beat the holy shit out of each other. Do you need any more reason to Netflix this sumbitch?
2LDK has a run time of only 70 minutes and when I say there is never a dull moment, there is never a dull moment. It's funny, it's gory, it's off the wall and I cannot recommend it enough. Once the violence and brutality kicks in, it does not stop until the gloriously blood soaked and utterly satisfactory finale.
If I haven't convinced you just yet, here's a little sneak peek at the madness :
Check it out and feel free to post your feelings on the film in the comments section below!