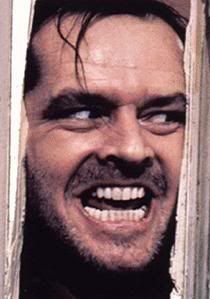 100th post. Woo. If I believed in god, I would thank him for this blog cause it's forcing me to research and discover things I was always too lazy and unmotivated to research and discover. Things like ; just who is that little bugger who played Danny Torrance in the Shining? Did the Grady twins ever appear in anything else? And just where the hell did Shelly Duvall go? Thanks to the marvels of the internet, I have answered all of these questions, so you don't have to! Although im pretty much just assuming you too wondered about these things before you fell asleep each night.
Danny Lloyd is the child actor who played the adorably frightening Danny Torrance. Here's a little then and now for ya :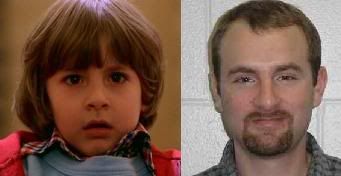 The above seems to be the only picture of Lloyd available on the web and while it looks like a mugshot, it's not, although I wouldn't be surprised with the way child stars seem to turn out. Two years after The Shining, Lloyd played a young G. Gordon Liddy in a made for tv movie titled Will : Autobiography of G. Gordon Liddy. Following this performace, he dropped off the face of showbiz and hasn't been heard from since. Lloyd is now 35 years old and I better see his ass at a horror convention somewhere down the line.
*UPDATE* The following was sent to me by an anonymous tipster :
"I had some additional information on Danny Lloyd, if you're interested. I recently did a convention with Danny, "Fright Night Film Fest" in Louisville, Kentucky. He really did not want to do it but was talked into appearing by the promoter. The entire time he seemed really unsure of himself and just had an all-around aura of discomfort. After talking to him for a few minutes I discovered that he is a teacher at a Christian school and really did not like the horror genre. He did the appearance solely to raise money for the Make-A-Wish Foundation and did not enjoy the experience. He said he had no plans on ever doing another show.
One thing I found particularly odd is that when my wife took a picture of the two of us together, the convention representative asked me not to post the picture on my website/Facebook/MySpace and not to use it in any promotional material. Danny just really wasn't into the whole picture thing ... he was afraid he was going to show up on the internet."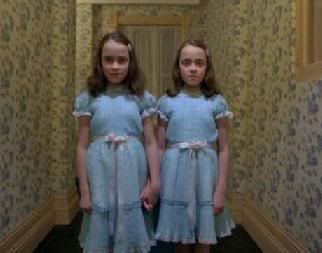 What about those evil little nightmare inducing twins? They were played by Lisa and Louise Burns, who following The Shining, promptly dropped out of show biz. Lisa went on to earn a degree in literature while Louise became a microbiologist. Seems they must have had stage parents that forced them into it. No wonder they looked so angry. I was sadly not able to track down any recent photos of the twins.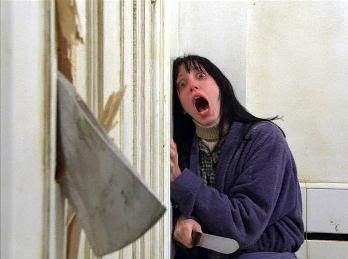 And just where the hell has Shelley Duvall been?! After roles in Popeye, Tim Burton's Frankenweenie, Suburban Commando, and Casper Meets Wendy, Duvall dropped out of the public eye in 2002. She last appeared in the indie film Manna From Heaven. Much like Elvis, Duvall has been spotted by fans, but she has yet to surface. What's with all these Shining alumns going AWOL?
As for some of the other major players, sadly, Scatman Crothers (Dick Hallorann) passed away in 1986 at the age of 76 from pneumonia brought on by lung cancer. Jack Nicholson went on to moderate success in relative flops such as Batman and The Departed and has only won a measley 2 Oscar's since the film.
Finally, the axe. Oh, that sweet little axe. What music it made. He dropped off the Hollywood radar and has become quite bitter and dull in his later years. Like many of his co-stars, he never quite regained the glory of The Shining. He vied for and lost roles in several low budget horror films throughout the 90's and eventually whored himself out on public auction for less then $10,000. Shameful. He is currently vying for a career redefining role in a stag film titled One Night In The Overlook, where he hopes to be used in ways he's never been used before.