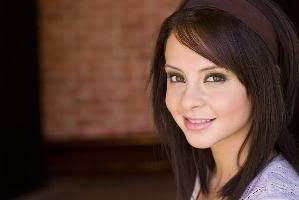 If you were a fan of 2006's
Hills Have Eyes
redux, you surely have a pretty large soft spot in your heart for Ruby, the lovable little mutant girl who sacrifices her own life to save the day. Well, i've just scored an exclusive interview (a Freddy In Space first!) with the actress who portrayed Ruby, the lovely Laura Ortiz!
While
Hills
was Laura's first film role, a role which she was nominated for a 2006 Fangoria Chainsaw Award, she had previously appeared in shows such as
Drake & Josh
(guilty pleasure of mine),
Sleeper Cell
, and
In Justice
. Since slapping on the red hoodie, Laura has gone on to appear in the films
Norbit
as well as voicing the character of Jessica in this years
Horton Hears a Who!
You may even remember her as the "caffeinated cheerleader" in that
T-Mobile commercial!
I'm happy to report that Ms. Ortiz is just as lovable as her Hills Have Eyes mutant counterpart! Maybe even more so!
What was it like to, in your first audition, be cast in the remake of a horror classic? Had you seen the original Hills Have Eyes prior to auditioning?
It was my first movie audition. I was really nervous but I had worked on it a lot and my only friend in LA at that time Kobie Lyons helped me figure it out. I remember being asked if I was even in SAG (Screen Actor's Guild) and I didn't even really know what that was. I think I was up against girls that had been working actors for a while. I did see the original Hills Have Eyes prior to the audition and I watched as many interviews with Wes Craven and researched Alex Aja and (co-writer) Gregory (Levasseur) to try and get an idea of what they looked for.
You should have a Fangoria Chainsaw Award sitting on your mantle. That's all i'm gonna say.
:) Thank you so much. I was so happy to have been nominated, it was the first time a family member came to LA to kind of see what I did, so it meant a lot. I remember when they were going through the nominees and part of me really didn't want to win because all of a sudden I couldn't feel my legs and I didnt know what I would have said. I was so new to it all and already so overwhelmed and happy to have been part of something like this.
Die hard horror fans tend to bash and hate remakes simply because they're remakes. Were you at all worried about how the movie would be recieved? It kicked ass by the way, one of the best remakes i've seen and most fans agree.
I couldnt have been more proud of the project and every person involved in it. I was amazed at how hard people worked on it and how much passion people had for every little thing they did.
Do you attend horror conventions often and do you enjoy mingling with us weirdos?
When I have time I love it, I feel like i'm a fan of the fans. I know it sounds cliche but really without the support, these projects would never get made. Horror fans are the most loyal, passionate and fun people I have ever met. There is always this geeky nerdy fun kid that comes out of them and it's a blast to be around, and I can unleash my inner nerdy kid too!!
Did you like how your 'mutation' was all done with CGI or would it have been easier to get into the part with practical makeup?
I had some make-up in the dirt and teeth and hands, those were all done by KNB. Cgi was awesome, especially because Jamison Goei (visual effects supervisor) is so talented, and after shooting all night I didn't have to be on set at 4 am like the rest of my "family", I got to come in at 10 am. I got to have my "beauty sleep".
This is something i've always wanted to know. Bear with me. Was the character of Ruby in any way meant to be an homage to E.T? The red hoodie, the weird hands, the whole good hearted mutant thing, and ya kinda even looked him! Was this at all intentional or I am just one of those horror weirdos who looks way too far into things?
Haha, the first person I thought of when you said that was Adam Green (Hatchet). We were just talking about how much he loves ET, and I LOVE E.T.!!!!! I had never really thought of it that way, but I think im going to go with that from now on. Thank you that made my day.
I've also always wanted to know ; Who exactly is Ruby in relation to the other mutants or was this something that was never delved into?
I always thought of Ruby as Papa Jupiter's and Big Mama's kid, not sure if that is right but thats how I had felt it was. She is the little sister that knows this is all wrong but still loves her mutant family so much. In a way she wishes she was a little heartless but she just can't, shes torn. I really loved that about her.
Let's say Lizard cushioned your fall at the end of the film. Is there any chance we could see a spin-off television series where the Carter family adopts you and takes you in as one of their own? I say greenlight it!
Ha! We always joked on set about having a "Ruby gets veneers and becomes a New York city girl" sequel.
Speaking of spin-off...they tried to replicate your character in the Hills Have Eyes 2, but it just didn't work. Did you see that film?
I have a lot friends that worked on it and Hansel and Ruby do get compared often, but I think we both had different takes on the characters, and I guess yes at the end of the day the mutant family can't be completely evil.
Any last words? Where can we see you next?
You will be seeing a lot more of me in front and behind the cameras. Most recently I got to work on Horton Hears a Who which is completely different than anything I had done before and it was definetly a blast.
Thanks so much for doing this, I really appreciate it!
Thank you for taking the time to find me, and for your support. I hope you're having an amazing week!
Again, thanks to Laura Ortiz for taking the time to answer these questions. This chick rocks!
While you're in the Hills Have Eyes mood,
take a trip
over to a post I did earlier this week comparing the original and the remake (aka where I explain why the remake buries and spits on the grave of the original)!