Earlier tonight I went to another Library Halloween themed seminar, this one being about the history of horror films. It's interesting to see how everyone kinda gets in the spirit around this time of the year and even places like the library embrace horror films. It was taught by cinema historian and folklorist
"Professor Kinema" Jim Knusch
, who was a pretty cool and knowledgable dude. As soon as I walked in there and saw him sporting the same Bela Lugosi
Human Monster
shirt I own, I knew I was in the right place. As he said, we are men of classy tastes.
Unfortunately, there were only about four or five other people at the seminar, besides my girlfriend and myself. That really shows ya how few horror fans there are around here for me to relate to. Then again, maybe horror fans just don't know about what's going on at the public library. Regardless, it was a very interesting and informative seminar and I learned more than a few things that, thanks to the note taking of my afformentioned girlfriend, I can actually remember. There was so much information coming to me that my brain was struggling to keep up. I think the most interesting thing I found out was that Bela Lugosi was originally cast in the role of Frankenstein, but he felt he was getting a better grasp on the English language and therefore should have spoken roles, so he passed. 12 years later, Lugosi finally played the green monster in Frankenstein Meets The Wolfman. Also, Boris Karloff was discovered and cast by Frankenstein director James Whale after he saw him on the set of the original Scarface, in which Karloff played a man who was gunned down in a bowling alley. Lots of interesting little facts like this.
I do wish that film historians would get into the more recent horror films, as they never really seem to. Granted, this was a seminar about the earliest historys of horror and I didn't expect it to head into the newer stuff, but no classes or things like this seem to acknowledge them. It's as if only horror films before the 60's are considered legit. This guy did get into Night of the Living Dead a bit though, so that was cool. He said that in a particular scene where a zombie is running around on fire, Romero couldn't get anyone to volunteer to be lit aflame, so he opted to do it himself. I'll have to pop that dvd in and look for that.
It was a good time and i'm kinda inspired to now look into those older movies more and even go back and check some of them out. Being such a big horror fan i'm kinda surprised that I haven't seen so many of the true older classics, but those movies have always kinda bored me to be honest. I think I need my gore! This Wednesday, they've got a guy reading from his vampire book at the library, so I think i'll check that out.
I just kinda Tarantino'ed this, so here's what I did earlier in the weekend...
The girlfriend and I decided to bust out the paints and each take a small wooden box and make a Halloween craft for one another. While she made a nice sweet little box adorned with skeleton versions of ourselves holding hands....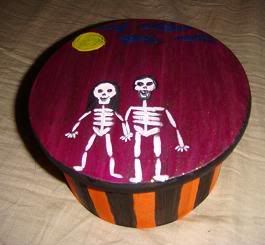 ...I opted to use some of the little actions figures and props i've obtained over the years to help turn my box into a gory diorama massacre starring none other then its intended reciever....
...The idea behind it being that she had a little too much fun on Halloween night and slapped on a Jason mask and went to town on those Pulp Fiction lego motherfuckers. I was pretty proud of it. Then I used her face as a canvas to turn her into that chick from The Strangers...
Man i'm gonna miss these pre-Halloween days of fun. Halloween's only three days away now and while most holidays are more exciting the nearer they get, Halloween fast approaching only means an impending end to the fun. The month or so leading up to the day is what it's really all about for us older folks, isn't it?