This is the last Tuesday and the last big load of horrors being unleashed before Halloween and it looks like it's gonna be quite the week for old school exploitation/sexploitation films, which i'm a big lover of. Here's all the big and interesting looking (to me) releases for this week.
Dead Space : Downfall (DVD & Bluray - 2008)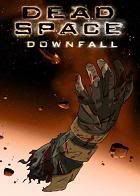 When a deep space mining operation discovers a mysterious alien Marker they believe they have finally found evidence of our creators. However, the removal of the Marker unleashes a horrific alien species, which had been entombed within a remote planet, and a desperate fight for survival ensues.
This is a feature length prequel to the Dead Space video game that just hit retailers two weeks ago. I don't have any of the next gen systems so I don't really know much about the game but i've heard nothing but praise for it. From what I know, the game is pretty movie-like in it's own right, so it seems only natural that a movie be made of it.
Zombie Strippers Unrated Special Edition (2008)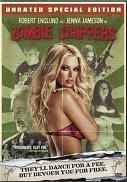 Jenna Jameson stars in this thrilling zombie adventure. In the not too distant future a secret government re-animation chemo-virus gets released into conservative Sartre, Nebraska and lands in an underground strip club. As the virus begins to spread, turning the strippers into "Super Zombie Strippers", the girls struggle with whether or not to conform to the new "fad" even if it means there's no turning back. They're not just strippers...They're Zombie Strippers!
Robert Englund, Jenna Jameson, and stripping zombies. It sounds like a horror fan boys dream come true. Sex, zombies, and Freddy Krueger. What more could ya want!
Shiver (2008)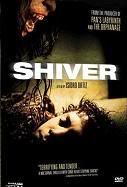 Santi is a bullied teen who suffers from a rare and violent allergy to sunlight. When his condition worsens, he and his mother are forced to move to a remote village in the mountains. But something is alive deep in this shadowy forest. It is hungry and vicious. It has begun killing the local townspeople. And now it wants Santi. Can a frightened outcast find safety in the darkness or does the ultimate terror wait in the most unexpected place of all?
I've been eagerly anticipating this one as it's from the same producers as Pan's Labyrinth and The Orphanage. If it's anywhere near as good as either of those, it'll be worth checking out.
Poultrygeist : Night Of The Chicken Dead Egg-sclusive 3 Disc Collector's Edition (2006)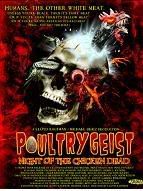 When the American Chicken Bunker, a military themed fast food restaurant, builds its latest chain restaurant on the site of an ancient Native American burial ground, the displaced spirits take revenge on unsuspecting diners and transform them into chicken zombies! Now, it's up to a dimwitted counterboy, his collegiate lesbian ex-girlfriend and a burqa-wearing fry cook to put an end to the foul feathered menace once and for all.
If this doesn't sound like the greatest film ever made, I don't know what does. As if you needed any more incentive to check Poultrygeist out, it's directed by Troma's Lloyd Kaufman, although i'm sure you probably figured that out by now. Kaufman (who has previously directed The Toxic Avenger) always manages to entertain, if nothing more.
Slumber Party Slaughterhouse : The DVD Game (2008)
In Slumber Party Slaughterhouse : The Game, audiences get the chance to put their horror movie trivia skills to the test while also helping a recently deceased geek take revenge on his former friends. The story follows Paul Tard, a geek on the eve of his graduation from air conditioner repair school. Paul's friends are throwing a graduation party complete with hookers but, when Paul's ex-girlfriend steals his hooker, Paul is uninvited to the party. Drowning his sorrows, Paul decides to take a bubble bath and bring along his laptop for some internet porn. Of course, the laptop falls in the bathtub and Paul electrocutes himself to death. None of this would have happened if he'd only been invited to the party, so Paul sells his soul to a demon in exchange for the power to take revenge on his former friends.

Slumber Party Slaughterhouse : The Game is a trivia challenge. Whenever Paul wants to kill one of his friends, the demon asks a slasher movie trivia question and the film dissolves to a multiple choice menu. If the audience chooses the correct answer, Paul gets the power to kill his ex-friend (and the friend's hooker, to tie up those pesky loose ends); but the wrong answer will send Paul to hell unavenged.
This may well be one of the coolest and most interesting ideas i've seen for a film. It looks like they managed to take an otherwise lame movie and turn it into something exciting. Kinda sounds like an extended version of that
interactive horror trivia game
I came up with a couple weeks back. I swear I didn't steal the idea! I'll definetly be checking this out and posting my thoughts when I do.
Pieces (1983)
A psychopathic killer stalks a Boston campus, brutally slaughtering nubile young college co-eds, collecting body parts from each victim to create the likeness of his mother who he savagely murdered with an axe when he was ten years old!
I've been dying to see Pieces ever since I heard Eli Roth ranting and raving about it on the Hostel 2 commentary but was never able to because it had never been released on DVD. Thanks to Grindhouse Releasing, we can now all check out the film that Roth called "a masterpiece of early 80's sleaze" and "one of my top horror films of all time! Not only is this the ultimate chainsaw movie, it's the ultimate slasher film. It has everything you could possibly want, by the bucketful. Full on chainsaw violence, absurd amounts of nudity, and the greatest ending in horror history."
The Beyond (1981)
A remote and cursed hotel, built over one of the seven gateways, becomes a yawning malevolent abyss that begins devouring both the bodies and the souls of all who enter in a graphic frenzy of gory crucifictions, chunkblowing chain-whippings, eyeball impalements, sulphuric acid meltdowns, flesh-eating tarantulas, throat-shredding demon dogs and ravenous bloodthirsty zombies.
This is a re-release of what most call Lucio Fulci's greatest masterpiece. The previous dvd release has become out of print and hard to find, so now's your chance to finally own the film. I can guarantee ya you'll get your moneys worth.
The Watcher In The Attic (1976)
The film is set in 1923 in a cheap Tokyo boarding house. The landlord, Goda, roams through the attic, observing the weird lives of his tenants through holes in the ceiling. One day he sees a prostitute murder one of her clients and decides that at last he has found his soul mate.
Never even heard of this one until now but it sounds pretty awesome. In the Amazon description, it states "...the film features some of the most bizarre sex scenes ever, including the story of a man who hides inside a special chair, so that a naked woman can sit on him." Count me in.
As always, to take a gander at all 44 horror dvd's hitting shelves tommorow, head over to
Amazon.
And don't forget to check out their
buy one, get one
and
$4.99-9.99
horror selections. With the economy the way it is, us horror fans need all the deals we can get, so stock up before Halloween comes and goes!