Thought this was pretty damn cool and figured some of you might too. I've often wondered just how shirt makers, namely horror shirt makers, go about bringing their ideas to life and who better than Ben, the dude who runs the best and most creative horror t-shirt website in the world
Fright Rags
, to tell us how it's done! I own more than a couple of their shirts, and they're nothing short of remarkable! In a world full of ordinary and boring horror shirts, Fright Rags towers above them all with their original and mindblowing designs.
Ben took the time to bring us all a four part "Birth of a Design" series, detailing each and every little step that goes into the process. This series shows the making of Fright Rags awesome Zombie vs Shark t-shirt, a shirt which I picked up for a friend of mine at the recent
Monster Mania
convention. It was extremely hard to part with it and not be greedy and keep it for myself!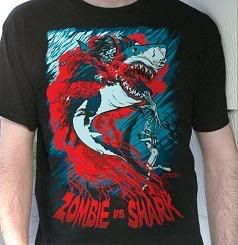 Here's how it came to be!
Part 1 : Design Sketches
Part 2 : Completed Illustration
Part 3 : Separating Colors For Printing
Part 4 : The Shirt Printing Process
If you head on over to Fright Rags now, you can get 10% off your purchase just by subscribing to their newsletter! And if you have any of their awesome shirts, leave a comment and let me know which one(s) you have! I personally own their
Killer Klowns
,
Pennywise
, and
Nosferatu
shirts and you'll rarely see me not wearing one of 'em!