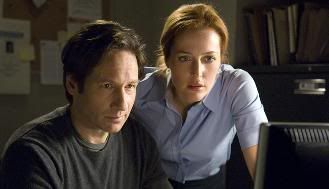 I haven't really been watching much X-Files lately but back in the day when it was originally aired, I couldn't get enough. I rememeber watching every (I wanna say Sunday) and I specifically remember one episode that scared the shit out of me and that I still think about to this day. Well, I don't really so much remember the episode as I do one particular scene.
From my recollection, Mulder and Scully were investigating something (duh) and arrived at some kind of remote cabin. When they got in there, they found what I recall to be mutants strapped to boards under the beds in the place. I remember either Scully or Mulder bending down and pulling one of these boards out from under the bed to the shocking and frightening realization of what was on them, but that's really all I can remember.
If there's any X-Files fanboys out there, please let me know the name of this episode so I can track it down and watch it again! I've been on the hunt for it on and off for the last couple years and simply have given up. You will be rewarded...with my sincerest gratitude and appreciation.
UPDATE! Thanks so much to preternatural, lisa bee, and rsoh2k4 for helping me solve this mystery! The episode in question is from season 4 titled "Home". After doing some research i've learned that the episode has only been aired on tv twice due to it's disturbing content ; it's original airing and a special Halloween airing. It's also the only X-Files episode to recieve the TV-MA rating! Time to go seek it out!