Much like Jason Voorhees in his respective films, Michael Myers has continually changed throughout the years and he looks just a little bit different in each of the 8 installments. (He wasn't in Halloween 3 but that film still rocked and I plan on telling you why in the very near future). Sure, he's always wearing the white mask and blue overalls, but the size, cut, and design of the mask as well as his hairstyle are continually a tad bit different and while sometimes he looks real badass, he's also come off looking like a jerkoff.
By the way, i'm sure everyone by now knows this but for the sake of possibly shocking one more reader, the white mask Myers sports throughout the franchise is actually a William Shatner Star Trek mask painted white. Carpenter & Co. wanted to find the cheapest mask they could find from the store and that's the one they stumbled upon. So next time you watch a Halloween film, have it in your head that that's William Shatner stalking and kllling the teens. That may even be scarier than anything else...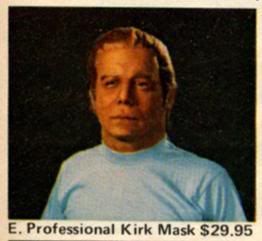 Halloween
Vintage Myers. This remains one of the coolest looks he's ever had. Everything from the hair down to the cut of the mask is perfect.
Halloween 2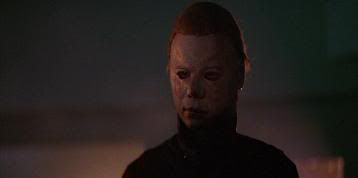 This one stuck true to the original design. I've actually heard that this is in fact the same mask from the original, which was stored away in a shoe box. So can't go wrong there.
Halloween 4 : The Return of Michael Myers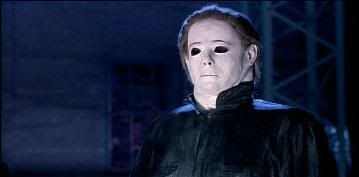 And this is where we start to go downhill. The mask is way too white and, after going Myers-less in Halloween 3, his big return in 4 was mired by how lame he looked. He looked more like Howard Stern's Eric The Midget than Michael Myers. I realize not many will get the reference, so here's a visual aid :
Halloween 5 : The Revenge of Michael Myers
This one might even be worse then 4. The cut of the mask is absolutely ridiculous. The nice short cut mask of the originals has been replaced with one with a long neck piece which looks silly. It's like throwing away your short ankle socks and slapping on those really long white ones with red stripes all the dorky kids wear.
Halloween 6 : The Curse of Michael Myers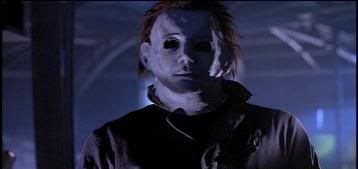 Something about the ears in this one. He looks way too happy for ole Mike. This is the one that began the crazier hair, so I do appreciate that as it was something the mask really needed. Certaintly a marked improvement over the previous two.
Halloween H20
Ah, much better. A return to the original style. I liked the more open eye holes they did for this mask, as it plays up the more human side of Myers this entry went for.
Halloween : Resurrection
And we start to go back downhill again. Michael's hair got a little too crazy and frizzy in this one. The wild hair style is something that suits Myers well but I think they went overboard here. It looks like he just stuck his knife in an electrical socket.
Rob Zombie's Halloween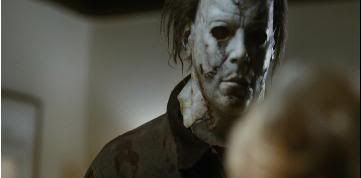 Finally, someone gets it right. The dirty tattered mask and messy hair are exactly what Myers needed to look like the badass mofo he originally was meant to be. Why did it take so long for someone to make the mask look this way?
In conclusion, the original and remake (Zombie did one thing right!) masks are my favorites in the franchise and 4 and 5 were so bad they almost ruined the entire movies for me. Everything in between was workable.
Leave a comment and let me know what your favorite Michael Myers mask is!