Pumpkin carving was so 90's. Say hello to the future. Say hello to artist Ray Villafane. Say hello to PUMPKIN SCULPTING!
First, a little background on Mr. Villafane, or The Pump-King as i've crowned him. Although that kinda sounds like an honor a pornstar would be given now that I read it back. In any event, Ray is an all around amazing artist who has sculpted for Sideshow Collectibles, DC Direct, and McFarlane Toys. He sculpts, he draws, he paints, he does it all. But, for me, his skills really shine in the fine art of turning a plain old little orange pumpkin into an absolute work of art that makes even the most skilled pumpkin carver drool and slobber and bow before his feet.
Ok, I think i've built him up enough. On to the pumpkins. Let me just post a few pictures of some of them and let them speak for themselves.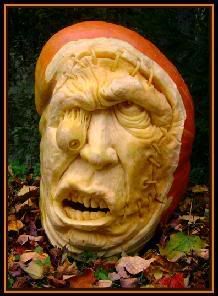 Take it all in. Yes, those are pumpkins. No, you should never carve another pumpkin again because it will never be as cool.
Buuut, if ya really wanna make an attempt at a pumpkin sculpture and think you're up for the task, Villafane offers up a pretty detailed tutorial on just how to do it, which you can check out along with full size pictures of all of his pumpkins
RIGHT HERE!
For more info and pictures of all of Ray's amazing work, take a look at his
MySpace
and
official website.
And mark down on your calendars that this Sunday, October 26th, at 8pm eastern on The Food Network, Villafane will be one of the four carvers competing for a $10,000 cash prize on their "Outrageous Pumpkins" challenge! I really don't see how he can not win and i'll definetly be tuning in to show my support!
Bow before the Pump-King!