Is there anything better than consuming unhealthy amounts of alcohol while watching a horror movie? If your anwswer to that question is yes, you're probably not someone i'd want to hang around and invite into my home. Unless of course your answer is 'yes, drinking and watching a horror movie while under the influence of some other illegal substance'. I don't condone it.
That being said, combining the two in the form of a fun drinking game is, naturally, the ultimate thrill. Only problem is, so few drinking games seem to exist out there and for so few movies. Quite frankly, i'm tired of google'ing "(obscure horror movie title) drinking game" and coming up with no search results! But it's not just the obscure ones, people haven't even made companions for most of the classics, and this troubles me. Well i've decided to take it upon myself to remedy this problem! Last night I was talking with a friend of mine and I came up with the idea of starting a website that would be solely devoted to coming up with drinking games for every horror movie out there, including the ones most people haven't even heard of so that future generations will never run into the problem i've run into. But i've got this here blog so I figure this is a good of place as any to accomplish such a task.
Seeing as Re-Animator is one of my favorite movies to play drink along with, I thought it the perfect place to kick the fun off!
The Rules :
-Take a drink everytime you see the color neon green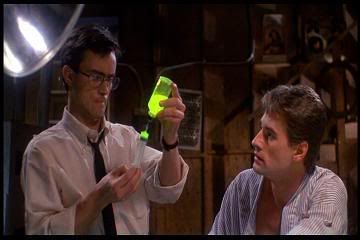 -Take a drink everytime you hear the Re-Animator main theme. Take another drink every subsequent five seconds until theme ends
-Take a drink everytime you hear the name Dan/Daniel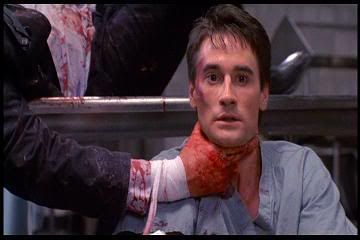 -Power Chug : Chug for 10 seconds whenever the black security guard at Miskatonic is totally oblivious to what's going on around him
-Take a drink everytime you see man ass. If you're a dude, polish off a whole bottle of JD and end your sorrows if you become excited. I kid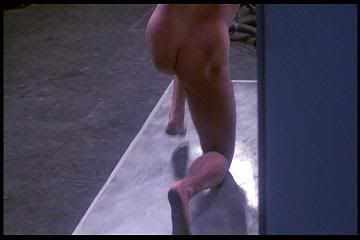 -Power Chug #2 : Chug for 10 seconds everytime you see Meg's tits. Ah fuck it, chug for 10 seconds anytime you see any tits. Yes, that includes the old dead hag in the beginning
-Take a drink everytime someone/something is successfully re-animated. Successfully meaning it comes back to life and then goes on a murderous slobbering rampage. Chug for 5 seconds if the re-animated being is then killed
-And finally, take a shot of your favorite and strongest liquor everytime a headless John Kerry lookalike picks up it's own decapitated head and makes it perform oral sex on a hot naked chick tied down to a surgical table
Whether it's your first time watching Re-Animator or you've seen it more times then you could count on the all the digits on your body, i'm pretty confident that this game will give you the most pleasurable viewing experience you've ever had. And if you become violently and deathly ill and the experience becomes anything but pleasurable, don't hold it against me.
If you have any suggestions for future horror drinking games, drop me an email at
mortis45@aol.com
!