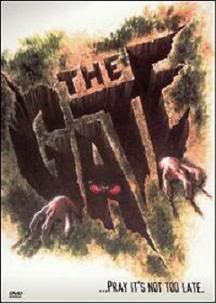 The Gate (1987)
It's that time of the week again! Recommendation time! And this one's one of my favorite horror films from my childhood.
The Gate, which by the way stars a young Stephen Dorff, is about two best friends, Glen (Dorff) and Terry who discover a strange crystalline rock in Glen's backyard. So inspired by this precious discovery, they decide to dig up a big portion of the lawn in search of more of the gems. Only this time, they don't find any stones. THEY FIND THE GATE! The two youngins unknowingly unlock one of the gates to Hell and all the deadly demons that come along with such a gate. Can they close the gate before it's too late?! Or will they be pulled down into the firey depths of Hell?!
There's a few types of movies that I cream my pants over. Christmas horror movies do it for me. Halloween themed movies certaintly do it for me. But right at the top of that list is the horror movie involving adventurous kids who end up doing some bad shit and unleash some even badder shit. These movies have always been a favorite of mine and The Gate tops the list of awesomeness in regards to such movies.
Now in a lot of movies like this, you can pretty much expect that the kids aren't gonna be in any real danger, right? You know they're gonna survive till the closing credits and you can be pretty sure that the brunt of the perils will be visited upon the heads of their elder siblings or parents. Well The Gate throws the rulebook out the window. In fact, the parents are totally out of the question as they're off on vacation for much of the film. Young Glen and Terry get themselves into some serious shit and they, along with their babysitting sister, really pay for it. There's several scenes that you will be amazed to see in a kids film. Scenes like Terry's dead mom appearing to him in a vision and then dancing with him, only for Terry to realize after a few moments that he is actually dancing with Glen's now dead dog! This shit is creepy! And not very kid friendly! Kid's will shit over this one.
This movie is surprisingly scary. I remember watching it as a youth and being pretty terrified by some of the shit in here, which still holds up to this day in the scares and creepiness department. I had forgotten the name of the movie for many years, but thanks to Blockbuster liquidating their vhs collection a couple years back, I was able to pick up a vhs copy for real cheap and a little piece of my childhood was restored.
One of the coolest things about The Gate is how Glen and Terry find out everything about what's going on and even come with the solution to what's going on thanks to a metal band they're fans of. This band wrote an album all about hell-gate opening and then all died in a plane crash following it's release. Terry figures out that if you play the record backwards, you will learn how to close the gate to hell! How cool is that! Pretty unique way of giving the kids, and us, some backstory as to what's going on and a fun play on that whole playing records backward myth.
The stop motion effects, which we are treated to in droves towards the latter portions of the film, are simply fuckin awesome. We never see stop motion in horror anymore, but we'll always have movies such as this, Evil Dead, and The Puppet Masters' to go to get our fixes! This is vintage 80's stuff.
If you didnt see The Gate in your youth, you may not have as much of an appreciation for it as you would if you had, but i'm pretty sure you'll still come to love it. The movie never takes itself too seriously and it's a hell of a lot of fun.
Ok, i'll shutup now. Go rent the film, now's the perfect time of the year for it. The 80's rock and so does THE GATE! It was followed by a sequel, Gate 2, which continued Terry's adventures and there was talk of another sequel in the past couple years, but it looks like that project is sadly dead in the water.
I also recommend :
2LDK
Story Of Ricky
Intruder
Near Dark
Castle Freak