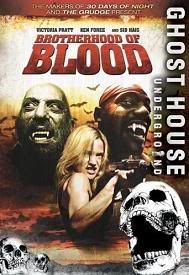 Should you see it? Absolutely not
Horror vets Sid Haig and Ken Foree star in this tale about a sexy vampire huntress, Carrie, and some dude who are captured by vampires and locked up in a dark cellar. It seems the guy she is locked up with has a brother who the vampires need to find asap and her fellow vamp hunters set out find her before it's too late. Why is it so urgent that they find the brother and will Carrie be saved before she becomes the main course?
Sounds very uninteresting, doesn't it? Well, you can't even imagine how uninteresting it really is. Vampires have never been so dull. This was released two weeks ago straight to dvd from Sam Raimi's Ghost House Underground (a sub-division of Lionsgate) and word is that Raimi himself picked this one to be one of the first dvd's released under the banner. All I can say is, what the fuck was he thinking?! I had actually been looking forward to this for some time given that i'm a huge fan of both Haig and Foree, but my god did it dissapoint.
I'm actually quite embarassed for Haig and Foree. They've worked so long in the genre and have been in so many classic films, and this is the material they're rewarded with? This shitty director was given the chance to have not one but two horror legends in his movie and this is how he used them? You'd think with the two of them signed on, the film would gain some credibility and budget, but not so. It's incredibly amateur and just about everything about it is done poorly. The acting is bad. The lighting is bad. The dialogue is terrible (at one point Haig says, "I was there when I burned him", in reference to the head villain. O ya? You were there when you killed him? YA THINK?!) The gore is awful. The twist is bad. I found zero merit in this movie whatsoever. Come on Haig/Foree, you're better than this crap.
I barely knew what was going on throughout most of the movie and to say I barely cared would be a huge understatement. The fangs on the vamps were way too big and all the actors were struggling to talk through them, which ended up sounding silly. It kept jumping back from the past to the present to the further back in time past and each every time they would announce things like "last night", "2 days ago", "now", "10 minutes ago". It was totally ridiculous and unnecessary and this time change happened with pretty much every new scene. It was a struggle to make it through this movie and I nearly gave up after every five minute period.
The only way I could possibly recommend you see this movie is if you really can't fall asleep one night and have got no Ambien on ya. It'll work like a charm. Seriously, they should build that into the tagline, maybe more people would see it.
You dissapointed me big time with this one Sid Haig, but i'm still voting for you for President!