With The Strangers coming to dvd this Tuesday, I think now's a good a time as any to take a peek under those masks. I just watched the unrated cut last night and I was struck with a strong urge to find out just what those killers looked like beneath the mask and who the actors were that portrayed them. By the way, the unrated cut features what looked like a second or two more gore and an entirely new scene towards the end of the film, which I felt took away from the overall impact. But anyway, lets rip those creepy masks off...
Dollface - Gemma Ward
Gemma is an Australian supermodel and is credited for being the youngest model to appear on the cover of Vogue, at only 16. She has done work for many top companies and earlier this year it was reported that she was dating Heath Ledger, after he split with Michelle Williams. This report came out just days before Ledger was found dead and thus she was his last known love interest. She has only appeared in two other films ; Pink Pyamas in 2001 and The Black Balloon in 2008. Forbes named her tenth in the listing of the world's top 15-earning supermodels, with a 2007 gross of $3 million. Who knew all that was under that mask!
Pin-Up Girl - Laura Margolis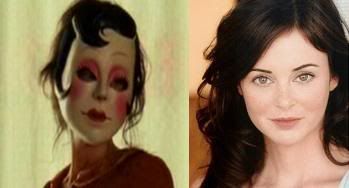 Before The Strangers, Laura appeared mostly in tv shows such as Monk, Friends, and The Drew Carey Show. She also starred in Brad Anderson's (Session 9) season 2 Masters of Horror episode
Sounds Like
in 2006. She currently plays Daisy in the ABC series
Dirty Sexy Money
. Not much more info about her seems to be out there.
Man in the Mask - Kip Weeks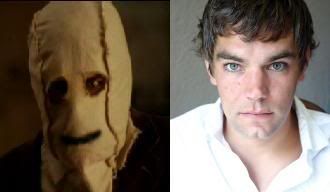 Not much information out there for Kip Weeks either, other then that he has a son named Jack and previously appeared in films Glory Road, 20 Funerals, American Primitive, Stateside, and Fearsome as well as playing the prestigious role of "Stoner #1" in Totally Baked : A Pot-U-Mentary.
Very interesting, especially the stuff about Gemma Ward. One of the coolest things about having this blog is that it motivates me to get out there and look into stuff like this. Otherwise, i'd just be too lazy to bother. I realize this isn't packed with info but it was mostly about seeing the faces of the actors and I also realize that seeing the human faces under those masks may make it less scary for some, but i'm pretty sure we all knew there were normal looking human faces under there anyway. I just feel like a better man for knowing what they look like.
If you haven't seen the movie yet because of all the negativity you've heard about it, check out my post
Sticking Up For The Strangers
to see why you should give it a rent this Tuesday! Don't let anybody tell you otherwise!