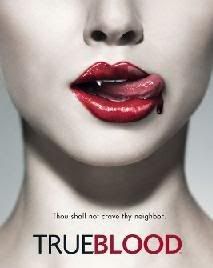 ***Pick up True Blood The Complete First Season for only $24.99 on
DVD
and $44.99 on
Blu-ray
***
Following the burning to the ground of the house Bill was in at the end of the last episode, Sookie cannot bear the thought that her lover is dead, especially so soon after the death of her Grandmother. But did he manage to escape? Jason continues his love affair with new V-loving partner in crime Amy and the term 'partner in crime' becomes shockingly fitting while Tara is enjoying her mothers new post demon exorcism take on life but begins to wonder if she's got a demon of her own inside her. As for Sam, he comes up with a couple different ways to explain his nude werewolf romp through the woods, but his stories are beginning to rouse suspicions in the town.
While this was a pretty good episode, I don't think it's as good as the show has been lately. It's pretty hard to top the last two episodes and this one certaintly wasn't too far off but it just seemed to be missing the real bite those ones had.
I don't think i'm spoiling anything here when I tell you Bill is not dead. Did anyone really expect him to be? The scene in which he returns comes off as kind of silly but I guess it fits the tone of this off the wall show. One of the most interesting bits is the contrast portayed between Bill and Sam's characters, as shown by post love making pillow talks with Sookie and Tara, respectively. I think Sookie picked the better man. Lead vampire Eric returns and enlists the help of Sookie's powers later in the episode, but I don't wanna give too much away.
The highlight was probably the addition of a new character to the show, Eddie, played by Stephen Root. You probably remember Root from films like Dodgeball and Office Space, where he played stapler loving geek Milton. Root is always fun to watch and I was real happy to see him on the show. He plays a homosexual vampire with a love for the show
Heroes
and for black dudes, the latter of which provides us an interesting look into where Lafayette gets his V from. This whole exchange makes for one of the better scenes in the episode. You'll hardly believe it's Milton!
The relationship between Jason and Amy is pretty interesting and it's nice to see Jason get some good material, outside of bedding random women. Amy's a pretty cool addition, but she proves to not be as amazing as she appears and could potentially lead Jason into some serious dangers. The levels an addict will stoop to obtain V are explored, and addiction as a whole is a major theme of this episode.
As always, we're left on more than a few cliffhangers with several of the main character's fates in question and I for one can't wait to see it all play out. With only a handful more episodes left this season, i'm expecting some major shit to go down.
Episode 9,
Plaisir d'amour
, airs next Sunday night on HBO.