Have you ever been watching a horror movie and at a certain point you say to yourself "what the fuck did I just see?!"? The answer to that question is most likely yes. Horror movies, good or bad, tend to be chock full of moments like these. Moments where you wonder what the fuck the filmmaker's were thinking and sometimes even single moments that are so bad and ridiculous that they ruin the entire film for you. I'm not talking about those wild over the top scenes that are meant to be totally off the wall and ridiculous. Those are the things that make the genre what it is. I'm talking the ones that are supposed to be taken seriously and just make no sense whatsoever. The ones that just don't fit in the movie and were crowbarred in for no apparent reason. Lets take a look at some of these moments, shall we?
Todays 'What The Fuck?!' moment comes from a movie that is a what the fuck movie in its own right,
The Hills Have Eyes 2
, the 2007 sequel to the remake. I'm not sure what they were thinking when they churned out this piece of crap after the awesome remake, but there's one moment in particular that really stands out in the annals of ludicrous movie scenes. 'Piece of crap' takes on a whole new meaning.
In an early scene one of the soldiers in the desert really has to take a shit and goes into a porta potty to do so, which he was ordered to not do. He sits down on the toilet and...well...i'm of the belief that pictures speak a heck of a lot louder than words...
So the soldier sits down on the toilet...
...shortly thereafter a shitty hand emerges and grabs onto his leg. The soldier jumps up and quickly exits the porta potty and comes back in with a fellow soldier and sees this...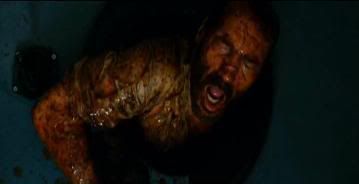 Yes, that's a man covered in human excrement crawling out of a toilet. That poor actor...
In a scene just a few minutes later, Shit-Man The Barbarian (I wish I could lay claim to that nickname, but that's what they really refer to him as) is pulled from the toilet and the soldiers get a few final words out of him before he dies of shit poisioning. I shit you not.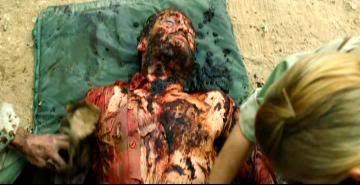 From what they gather, the mutants made hundreds of not deep enough to kill a man cuts all over the dudes body and then forced him into a shit filled porta potty so that he would die a slow and terrible death, thanks to the infections that come along with poop in open wounds. Now, aside from the fact that the
Hills
mutants are supposed to be savage beasts and therefore shouldn't have the psychological torture prowess of
Seven's
John Doe, how the fuck do you even get a man down a toilet?! This scene is absolutely ridiculous and comes off as nothing more than a very very sad attempt at shock value. It doesn't shock or scare, it just bewilders and inspires rage. And to think Wes Craven had a hand in writing this shit...
Don't get me wrong, there is a time and a place for stuff like this. A scene such as this one in an over the top horror comedy type film would probably be one of the funniest and coolest scenes ever (see : Sleepaway Camp 2). But in the sequel to a brutal and realistic horror film, it's out of place, to say the least. Ya just gotta know when it's appropriate for death by shit material.
If anyone has any suggestions for future "What The Fuck?!" installments, post them in the comments section. Next time i'll hopefully have video up. I spent almost 2 hours trying to upload this clip onto pretty much every video hosting site on the net, but none of them would allow it due to copyrighted content. People upload full movies on YouTube and I can't even get a 30 second clip from a bad horror movie up. I even tried the most backwoodsy and unrestricted sites and they wouldn't allow it either. It's things like this that suck the fun right out of blogging. I used to have no problems uploading videos but lately i've had nothing but. I made a whole nice little video with an intro and everything too....