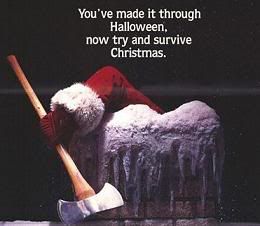 How well do you know your horror taglines?
Can you tell the difference between the real ones and the ones i've made up? Only six of these eleven taglines are from real Christmas themed horror films. Try and pick out the five fakes!
He's Dreaming Of A Red Christmas!Better Watch Out....Better Not Cry...Or You May Die!Forget Milk And Cookies. He Wants Blood!Gonna Find Out Who's Naughty Or Sliced!Have Yourself A Very Scary Christmas!At The North Pole, No One Can Hear You Scream!He Was On The Naughty List....But He's Getting What He Wants This Christmas!It's Beginning To Look A Lot Like...Bloodshed!Twas The Night Before Christmas, And All Through The House, Not A Creature Was Stirring...They Were All Dead!I Saw Mommy Getting Killed By Santa Claus!He's Making A List. Pray You're Not On It!
Once a few guesses roll in, i'll post all of the correct answers in the comments section!