Strap yourselves in your time machines once again! In this episode we're going way back into 1982 for the first film role of one of the biggest horror icons in history,
Saw
's Tobin "Jigsaw" Bell!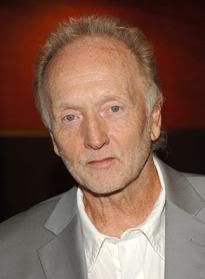 Everyone's gotta start at the bottom of the ladder and before he became one of the most well known horror villains of our time, the then 40 year old son of a British actress made his acting debut as an unnamed waiter in the 1982 transgendered classic
Tootsie
, a role so small that he was not even credited for it! Nevertheless, to make your on screen debut in such a huge movie, as an extra or not, is something to be proud of.
About an hour into the film, star Dustin Hoffman enters a party scene and the young looking Bell has about two seconds of screen time wherein he passes right in front of the camera showing off his waitering skills by steadily balancing four glasses of champagne on a tray. Impressive, Tobin. Very impressive!
Of course, i've uploaded the clip for you to see and while ya really can't miss him, this is the cherubic face you should be on the lookout for...
And now, enjoy Jigsaw's big screen debut, over two decades before the first
Saw
film!
It would be a full six years after
Tootsie
before Bell ventured into the acting field again with a one episode role in the television show
Equalizer
and later a film role in 1988's
Mississippi Burning,
where his character was finally given a name! You've probably seen the movie countless times and never noticed him, but believe it or not, he even played a parole officer in Martin Scorsese's 1990 gangster epic
Goodfellas
! Here he is speaking to and shaking hands with Robert DeNiro and looking more like the Tobin we all know and love!
While it was 22 years from his debut to the time he became a household name in the horror community, Bell did have pre-
Saw
success with roles in hit television shows like
Seinfeld
,
NYPD Blue
,
The X-Files
,
The Sopranos
, and
24
as well as movies like
The Firm
and
The Quick and the Dead.
From an uncredited waiter to the star of one of the biggest and most successful horror franchises ever created, there's no doubting that Tobin Bell has come a hell of a long way. To start your acting career at the age of 40 and still manage to become a huge star is truly an amazing feat. I salute you, Mr. Bell!
On an interesting note, despite the fact that Tobin will perhaps forever be best known as Jigsaw, he does not and never has considered himself a fan of horror films. Oh, the irony!
Check out
Episode 1
where we looked at the debut film appearance of
Candyman
's Tony Todd!