Yet another Halloween has come and gone and to say I feel a little bit empty inside would just about sum it up perfectly. As I wipe the tears from my eyes, i'm gonna do my best to recall all the fun I had on that special day...
I really had no set plans other than to scare some little trick or treaters, watch some horror movies, and drink a couple beers. And that's exactly what I did. I didn't have a costume, due to lack of preparation and more importantly lack of funds, but I scraped together what I could and made that work. I had a werewolf mask and a pair of gorilla hands from years past, which really didn't match in color, but I made the best of it. I guess I was a hoodie and jean wearing werewolf who lost his hands in a hunting accident and had gorilla donor hands stitched on in their place. Works for me. Jen went all out and dressed up like Elvira, which made her a big hit with myself and all the chaperoning fathers...
So with the costumes on, I popped on a constant stream of horror movies (Dawn of the Dead/Night of the Demons/Elvira : Mistress of the Dark), and (not so) patiently waited for the trick or treaters to come knocking. I was perhaps a little more excited than I should have been but the way I see it, this is the one day of the year where dressing up like a monster and terrifying little kids is socially acceptable and wont land you in some form of restraints, so i'd better make the most of it, 22 years old or not!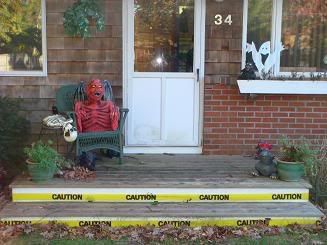 The first group that came to the door consisted of a hispanic mother and her two daughters, who arrived by car. Which by the way, what the fuck is up with that? Driving your kids around house to house on Halloween pretty much sucks all the fun out of it for them, does it not? It almost turns the holiday into a chore where they just collect all the candy they can at the houses mommy deems fit and rush home in time for her to catch Oprah. Let your kids roam free! That's how it used to be. Sure the world isn't exactly a safe place these days, but let 'em be kids at least one day of the year. Although it is nice to see that at least some kids are still being allowed to go out tricking and treating at all. Anyway, I was under the false impression that little kids like to be scared, especially on Halloween. So I crouched behind the chain link fence that's on my lawn facing directly towards the road and I began to violenly shake it, in werewolf garb, which prompted my desired response from the little girl in the Super Woman costume who was fast approaching. So I figured i'd continue to pursue it and I hopped the fence and hid behind a tree and kept popping out to scare her, but I guess I went too far. She started screaming and crying and her mom immediately hightailed it out there. Woops. I really hope I didn't permanently ruin the fun of Halloween for her. I guess she was a little too young but hey, I thought this was the kinda stuff kids love. But all in all, most of the trick or treaters enjoyed seeing someone on the other side of the door getting in on the fun. I know when I was a kid it was always nice to see the candy whoring adults having as good of a time as I was.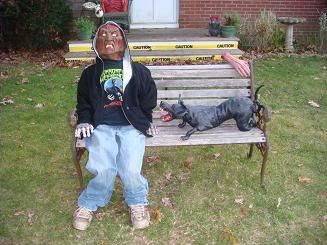 I decorated a little bit on the front lawn, with a pseudo-Freddy dummy (ya that's him, it's just a really shitty New Nightmare mask) on a bench that everyone would have to walk past in order to get their treats. He was a big hit of the night and most people weren't sure if it was a person under there just waiting to pounce on them or if it was just a stuffed prop. It may not look so impressive, but once night fell, you really couldn't tell.
So with that diversion in place, I decided to crawl under Jen's car and make it look like I was merely an unmoving werewolf decoration, like the one on the bench. When people would get close, I'd move my head and scare the pants off of 'em. People still weren't sure if it was a real human or an animatronic decoration, but no one dared get close enough to find out. The only problem is, the kids that are too young you really don't wanna scare (as I learned from the story above) and the kids that are old enough to scare are too tough and badass to allow themselves to be scared. There were a couple pricks in particular who for whatever reason got real upset that I was trying to scare them and were throwing around curse words and 'yo mama' disses, so I got up from my hiding spot and followed them down the rest of the road. This pissed them off even more and i'm pretty sure I almost got beat up by a couple 14 year olds while dressed like a werewolf. Have a little fun on Halloween jerkoffs, you don't have to act so tough all the time. I'm actually pretty surprised they didn't return later in the night to egg the house. After the last of the trick or treaters came and went, we just went over to my friends house and drank the remaning hours of Halloween away. And I don't remember all that much after that, so I guess it was a good night!
It was a lot of fun but like i've said multiple times before, the buildup to Halloween is always a lot more exciting than the actual day itself. Back when I was younger it used to a blast, but now that i'm passed the age of trick or treating it's just not the same. But the all month fun of Halloween preparation will never lose its luster for me. At least I hope not. When it does, I think it'll be time to bust out the noose and block of ice.
As I mentioned below, my blog post on
The Many Masks Of Michael Myers
was featured on the
Imdb
hit list for Halloween day and for all weekend, since they only update it Monday-Friday. I got over 11,000 hits on Halloween alone, so that was fuckin awesome. That number was pretty much cut in half for today and probably will decline even more for Sunday, but it'll still be a hell of a lot more than the usual 300 I get daily. I just hope some of the folks clicking that Imdb link decide to keep on coming back once it's off there.
Jen and I went on an all day hunt for discounted Halloween goodies today and we came home with a lot of bang for our buck, so i'll post about all that stuff probably tommorow. So keep an eye out for that.
And don't forget to set your clocks back an hour!