The script for the upcoming remake of Wes Craven's 1972 cult classic was leaked onto the internet some time ago and I was finally able to get my hands on a copy! I've got some time to spare and i'm about to crack into it and see if it's any good. But before I do that, I just wanna say I am kinda opposed to a remake of this movie for several reasons. The biggest of which being that the whole charm of the film was that it was low budget and grainy and felt like you were watching a real snuff film or something. To slap a big budget on it and make it all flashy and hip just seems to be completely the opposite of everything it's about. But i'm gonna try to not pass any judgements until I see it or at least read this script.
Also, check out the first picture from the film that
Shock Till You Drop
scored, of the new Krug (Garret Dillahunt), Sadie (Riki Lindhome), and Francis (Aaron Paul) :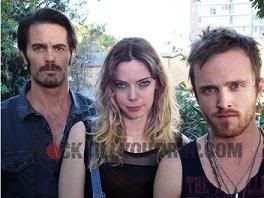 And check out the poster that was just shown at the American Film Market in the post below.
Now let's take a gander at the 97 page script, shall we! It should be noted that this script, written by Adam Alleca, Carl Ellsworth, and Mark Haslett, may not be the final shooting script as it doesn't really say so anywhere on it. But the film has already been completely shot and I can only assume that this is the script that was used.
THERE WILL BE SPOILERS BELOW SO DON'T READ AHEAD IF YOU DON'T WANT ANYTHING RUINED. THEN AGAIN, IF YOU'VE SEEN THE ORIGINAL, I REALLY WON'T BE SPOILING MUCH FOR YOU.
So here's a little summation of the plot. Krug escapes from custody and joins up with his girlfriend Sadie and brother Francis. It then cuts to Mari Collingwood (Sarah Paxton) and her mother Emma (Monica Potter) and father John (Tony Goldwyn) driving up to their summer vacation home (which is actually referred to as "the last house on the left.") Mari heads into town to get some groceries and meets up with her friend Paige (the new Phyllis - Martha MacIsaac). They talk for a bit and meet up with Justin (Krug's son - Spencer Treat Clark), who takes them back to Krug's place to smoke some weed and you know where it goes from there.
The script starts with a pretty badass scene that was hinted at over the radio in the original but was never shown. That scene being the escape of Krug, thanks to the help of Sadie and Francis (the replacement for Weasel from the original), from police custody. Looks like it'll be a pretty bloody scene and a cool start to the film.
I made some comments in the post below about the lame looking poster for the movie that was shown at the AFM about how the sign that said "the lake ends in the road" really made no sense and it was comforting to see that it's talked about in the script and lead character Mari mentions how it doesn't make any sense. She says, "The ROAD ends in the LAKE. A lake does not END in a ROAD." Krug then later on sees the sign and says "does that make any sense to you?" So that poster makes a bit more sense now and doesn't seem so stupid.
Not much is really changed from the original, as it seems to be pretty much the same film just with a bigger budget and different actors. It's not exactly a scene by scene remake, but it's pretty goddamn similar. The main differences come towards the end of the film. Mari, the girl who was shot in the lake and killed in the original, is only shot in the shoulder (in a very silly sounding scene) and actually manages to survive. It's through her crawling back to the home that her parents realize they've just let her attempted killers into their house. Typical American horror movie shit of recent. There's always gotta be a survivor and a happy ending. Although it should be noted that in the first drafts of the original, Mari was in fact slated to survive. Even Krug's son, Justin, survives! The original was awesome because they killed off both the main characters and while Mari's family did exact their revenge, there was certaintly no happy ending as their daughter was still dead. Keeping her alive kinda cheapens the whole thing. The other main difference is in the way the bad guys are killed off, but i'll get to that in a minute. And then we come to the end...
The end of this movie is totally ridiculous. It would probably look cool on screen, but it just sounds so silly and doesn't fit the realness of what Last House is about in the least. Early in the film, Mari's dad, John, is tinkering around with a shitty old microwave in the guest house and we learn that this microwave, for whatever reason, can operate with its door open. So at the end of the movie, he ties Krug down and places the microwave over his head, which then explodes (as in, his head) and it cuts to black. I mean come on what is this, fucking Dead Alive!? Last House is supposed to be a realistic gritty horror movie, not an over the top gorefest. This scene is gonna inspire chuckles more than anything else. And ending the movie on that note?! Big mistake if ya ask me.
So what changes that were made for this remake do I like? As I mentioned, Krug's escape at the beginning looks pretty sweet. At the end, Paige's father, who was hinted at earlier, comes into the picture to help exact revenge on Krug & Co, which I thought was a cool little addition as Phyllis' family never got their revenge in the original. Another change I liked was the lack of cops throughout the movie, save for briefly in the beginning. The whole cop subplot in the original was pretty unneccessary and detracted from the story, and i'm glad to see it gone. Also, Marie and Paige were a lot tougher than Mari and Phyllis were in Craven's. They didn't just go along with whatever was done to them, they actually tried to fight back, albeit in vain. Similarly, I liked how Krug's son Justin actually stuck up for himself and helped the Collingwood's, as opposed to being a total manipulative pussy like in the original. And that's really about it.
For the most part, the big changes that were made to the original film are not for the better. And like I said, it looks like pretty much the same movie other than those changes. Why bother even remaking it? The whole idea of a remake is to expand and build upon what's already been done with that story in the past. Look at the good remakes we've seen so far ; Texas Chainsaw Massacre, Dawn of the Dead, Hills Have Eyes. They all stayed true to the original ideas and storylines, but then ran with it and created entirely different films. Last House is not a perfect film, but it's a perfect film for what it is, so why create the same exact thing we've already seen before? You're gonna expect everything that happens to happen and there's really no room left for surprise or shock.
I know people love to see listings of all the death scenes in upcoming horror movies, so who am I to deny you that?! AGAIN, DON'T READ AHEAD IF YOU DON'T WANT SPOILERS!
-Sadie shoots two cops dead in the opening. Another cop is killed in the car crash that frees Krug from custody and Francis then shoots a detective in the head
-Paige is stabbed in the stomach and killed by Krug
-Francis gets a wine bottle smashed over his face by Mari's mom and then her dad "bashes his jaw in" with a hammer. Mom stabs him in the stomach and dad drives the claw side of the hammer into his skull
-Sadie is shot in the neck then right between the eyes by mom
-Krug is tied up, paralyzed from the neck down, and then microwaved to death
Nothing too exciting, eh?
Don't really have too high hopes for this one but I guess it could be kinda fun. Will I be there opening night? You bet your ass I will! Nothing really would stop me from seeing a remake of a film I love, even if it's just purely out of curiosity.
BC over at
Horror Movie A Day
managed to check out an early test screening of the film a couple months back, so check out his offical review to get more of an insight into the remake, as i'm basing my opinions purely on the script.
While there's no set release date, it will land in theatres sometime in the early parts of '09, with a March date being thrown around lately. It was just recently given an "R" rating for "sadistic brutal violence including a rape and disturbing images, language, nudity and some drug use."