Alright, so we all fuckin love to see people get killed in horror movies, right? That's why we watch 'em, isn't it?! But aren't some of those kills just a little more satisfying than others? I'm not talking cooler and more memorable satisfying, i'm talking a character you've hated throughout the whole film finally getting his/her comeuppance satisying. Those death scenes where you jump out of your goddamn seat and literally clap your hands together because of the joy you are filled with in seeing such an irritating motherfucker finally bite the big one! Here's some of the ones that gave me perhaps a little too much enjoyment...
The Mist - Mrs. Carmody
Starting off the list with a (literal) bang. I don't think i've ever been filled with as much hate and anger as I was filled with when I watched Mrs. Carmody preach her religious bullshit throughout the entire first hour and 40 minutes of The Mist. Sure, we're supposed to hate her character, but I found myself hating her so much that it almost ruined the movie for me. When she finally gets a bullet in the stomach then right between the eyes, i'm pretty sure I let out an audible yelp of joy in the theatre. I think this is the treatment that all religion spewing people deserve. Just kidding. But not really.
The Texas Chainsaw Massacre (1974) - Franklin
I'm pretty sure Tobe Hooper specifically put such an annoying character in the film so that he could get the enjoyment of slicing and dicing him up with a chainsaw. Best of all, he made him a complete invalid cripple so that he'd have no chance of escape one Leatherface came to have his fun! Kinda dissapointed that you don't really see much of his disembodiment, but just knowing that ole Franklin is getting acquainted with the razor sharp teeth of 'Faces chainsaw is satisfying enough. After all, if Leatherface didn't ruin everyones vacation, Franklin would've!
House of Wax - Paige (Paris Hilton)
When genre fans found out that Paris Hilton was gonna star in the remake to the Vincent Price classic, they were up in arms, and rightfully so. But I think the reason she was cast in the film is actually a real good one. There was an actual marketing ploy for the film that was based around the fact that if you go see this movie, you get to see Paris Hilton die! Seriously, they made t-shirts and posters that proudly proclaimed, "See Paris Die May 6!" Now if that doesn't put asses in the seats, I don't know what will. I was worried that they'd skimp on her death scene and not give it to her good, but boy o boy was I wrong. Paris got it in the worst fuckin way and I, like many others, wore out the rewind button on several remotes re-living her death over and over again. The filmmakers clearly got a kick out of killing her and made sure to make it last as long as possible. I will give props to Ms. Hilton for allowing this to be done to her, however.
Night of the Living Dead (1990) - Harry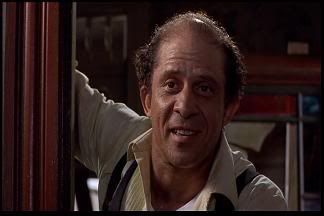 This one was really unexpected, as Savini totally turned the tables on what we expected to see. In the original Night, it's the surviving black dude who gets shot in the head after being mistaken for a zombie. In Savini's remake, he had the surviving chick shoot the most annoying character throughout the film in the head, passing it off like he was just another zombie. So fucking satisfying. If ever it was justified to blow a persons brains out, this was the perfect time. By the way, that's Tom Towles from House of 1000 Corpses and Henry : Portrait of a Serial Killer!
The Descent - Juno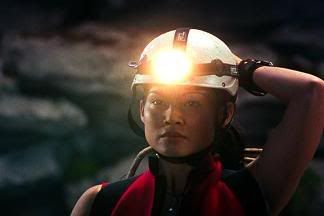 In one awesome scene in the film, Beth approaches Juno from behind and Juno instinctively and accidentally plunges her pick axe into her friends neck. So it was a mistake. Juno doesn't deserve to die, does she? Well after she mortally wounds her gal pal, she just walks off and tells no one about it! She leaves Beth behind, blood pouring out of her neck, and does not a thing to help her or at least comfort her in her final moments. So, later on in the film, final girl Sarah inflicts some sweet cave dwelling justice on Juno and, quite purposefully, lunges her own pick axe into Juno's leg and leaves her to be eaten alive by the cave beasts. Gotta love the beautiful poetry and revenge of Juno being stabbed and left to die much the same way she left Beth. Not to mention, it was hinted that Juno was sleeping with Sarah's husband before he died and Juno was the one who falsely led the girls into the unexplored cave, so the bitch really deserved it! This scene was both shocking and totally fuckin awesome and it took a lot of balls for director Neil Marshall to film a scene like this of one main character effectively killing another. Got damn this movie fuckin rocks.
Honorable mention goes to Captain Rhodes being ripped apart in Day of the Dead. I already talked about and posted that in my
Tom Savini's Greatest Hits
post a while back, so check that out to see that sumbitch getting his shit torn up. Oh, and Kathy Bates death in Misery was utterly satisfying too.
I hope you all enjoyed these as much as I! Sick motherfuckers!