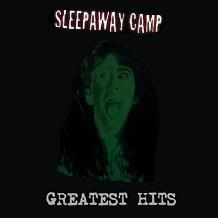 The
Sleepaway Camp
movies are known primarily for two things ; the transgendered psycopath Angela Baker and her creative and fun kill scenes. With
Return To SC
being released on dvd last week, now's the perfect time to take a look back at some of her greatest hits! Well actually, last week would've been the perfect time, but what can ya do. I haven't yet seen
Return
, so this list will only cover 1-3 and besides, I wouldn't wanna spoil any of the deaths from that film anyway. From what I gather, they're really the only things worth watching about it. So give
Return
a rent to feast your eyes on those and now take a look at my favorite murder scenes from the original
Sleepaway Camp
trilogy!
Sleepaway Camp - Taking Care Of Bees-nest!
They say to make sure you're always wearing clean underwear because ya never know when ya might meet your end. This poor guy didn't even get a chance to wipe before he died.
Sleepaway Camp - Straighten Up!
While most would reach for the machete or the steak knife, Angie opts for woman's best friend ; the curling iron. Hey, at least this chick will go to the grave with a beautiful head of straight hair! Always a silver lining. Always.
Sleepaway Camp 2 - Don't Forget To Flush!
Now that's a pretty
shitty
way to die. I'd be mighty
pissed
off if I were her! Ah, who doesn't love toilet humor. This is exactly why your parents always told ya not to leave any floaters.
Sleepaway Camp 3 - Nose Job!
Cosmetic surgery free of charge! What a saint, Angela, what a saint. Now if someone would just be so kind as to perform the same operation for that thing between her legs...
Sleepaway Camp 3 - Landscaping With A Horror Villain!
Hm, I wonder if Angela's a Dead Alive fan? I'd say so! And I didn't fuck up uploading this one, that's unfortunately where the kill cuts off.
Sleepaway Camp 3 - Raise The Flag!
I guess one could argue that Angela is the most patriotic of all the slashers.
While ya really don't get much in terms of gore with these films (at least in comparison to these days), you can't argue the fact that Angela's one original and creative tranny mofo!
So what's your favorite
Sleepaway
kill?!