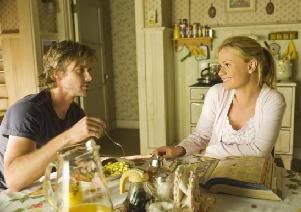 ***Pick up True Blood The Complete First Season for only $24.99 on
DVD
and $44.99 on
Blu-ray
***
The killer is finally revealed (if you have DVR and used the pause button on your remote at the right time)! Another solid episode of True Blood this week. Felt like it was mostly build up to what's gonna be coming to us in next weeks season finale, but that's all well and good. Here's a recap of the episode...
So it looks like Rene is the killer. That picture of the pie chick who got killed's brother that was briefly shown at the end was unmistakably Rene. Not sure what his motives are but I guess he's just a sick murdering motherfucker who really doesn't like Jason and wants to kill everyone he comes close to. Why? Hopefully we find out next Sunday. The only thing is that Jason's grandma was killed in a totally different way than the other ladies were killed. She was sliced and diced and left in a pile of her own blood whereas the other gals were merely choked out. Could there be two different killers or did Rene just really not like Gran one bit? Again, I guess we'll find out next week. Plus it seems like Rene only kills those who have or may have had sex with vampires. Is he maybe a hired hand to eradicate the mainstreaming of vamps? But why would the vamps need a hired hand? Can't wait to find out either way!
Anyone else really just not liking Sookie lately? She's become a very unlikable character to me and the few friends i've talked with about it agree. Bill's gone for a couple days and Sookie forgets all about him and starts neckin with Sam! Whattawhore! The show is kinda interesting in how flip floppy it seems to be in the portayals of its character, which I guess is kinda how it is in life if ya think about it. The characters I liked in the beginning I don't like any longer and the characters I didn't like in the beginning i'm starting to like now. It's also kinda strange how Sookie really doesn't even feel like the main character anymore, even though the whole show is adapted from novels about the Sookie Stackhouse character. Not that i'm complaining, as there are more interesting characters on the show that i'd rather hear from.
Which brings me to Lafayette. Ever since that AIDS burger scene, i've been in love with his dude. In the most non gay of ways. Although proclaiming love for a dude like Lafayette is hard to not come off as gay. He's by far the most interesting and dynamic character on the show and I wish we could get more of him. Spin off time! I often find myself wondering what Lafayette's doing while i'm watching, say, Jason and Amy bone. Can't help but feel like major stuffs gonna go down with him next week that i'm not gonna like. Don't kill off Lafayette! Don't make me picket!
Speaking of Jason and Amy....I absolutely loved Amy's death scene (one of the coolest scenes in the whole show) and I was glad to see her die as I was really getting sick of her shit. What an awesome and badass way to kill off a character. Beautiful scene. Amy's time was up and there was really not much more for her character to do, so her death really came as no surprise. She basically was written on the show to eventually be killed so that we'd come to this whole Rene is the killer conclusion. Jason is once again behind bars and he's so fucked up that he thinks he might have actually killed all those women! This dude keeps getting dumber and dumber! How the fuck is he gonna get himself out of this one? And will he ever get his shit together?
Glad we saw how one becomes a vampire but my god, was that Jessica chick annoying or what? Totally unlikable, but I guess that's the point. It was however kinda interesting to see someone embrace their vampireness in this show for once. Maybe it was the actress that was just really annoying. As I said to my friends while watching, if she was more attractive and likable her annoyingness could've come off as kinda cute, which would've been better. I just really wanna see her get staked now and I really can't see where she's gonna go from here.
I actually kinda liked Tara in this episode, which I can't often say. Couldn't help but feel for her after the way her dirtbag mother treated her. But is she about to meet her end courtesy of this mysterious chick who took her in? Hopefully i'm not spoiling too much, but apparently that chick is a mythical figure called a Maenad.
In Greek mythology, Maenads were the inspired and frenzied female worshippers of Dionysus, the Greek god of mystery, wine, and intoxication. Their name literally translates as "raving ones". They were known as wild, insane women who could not be reasoned with. The mysteries of Dionysus inspired the women to ecstatic frenzy; they indulged in copious amounts of violence, bloodletting, sexual activity, self-intoxication, and mutilation.
Sounds like the makings for some wild shit. Am I the only one who welcomes all kinds of new creatures into the True Blood universe? I think it could be really fun and keep everything fresh and interesting.
The 12th and final episode of True Blood's season one, titled "You'll Be The Death Of Me", airs next Sunday night on HBO and it looks like it's gonna be a hell of a wild ride! I just can tell there's gonna be a lot of cliffhanger loose ends to keep us in anticipation for season two, which we're gonna have to wait till June '09 to see! Check out the official preview for the finale in case ya missed it!