I promised Christmas treats each and every one of the 25 days leading up to the big day, but before we get to that....
...a couple reminders...
Glass Eye Pix Creepy Christmas Film Festival was kicked off today. From now through the 25th, there will be a new short horror film posted to their website, made by a slew of talented artists and filmmakers. Head on over to the
Creepy Christmas
website to unwrap your first short of the season! Its...bizarre...to say the least. And be sure to visit that site every single day from now till Christmas for a new creepy short!
I made a little quiz the other day where I posted 11 Christmas horror taglines and you have to figure out which are from real films and which ones I merely made up. Only one person so far has commented with his guesses and i'd love to see some more of you take a crack at it. So
get crackin!
Does nobody want to win a prize package or can nobody come up with a creative Christmas horror plot idea?! The contest ends this Wednesday, so get your entries in for the "Create Your Own Christmasy Horror Flick" contest
NOW!
Come up with a brief plot description for an original horror movie based around Christmas time and win a super cool prize! With only two people participating thus far, the odds of you winning are pretty high!
One last note before we get to today's treat. Don't skip ahead! If anyone who reads this blog is Photoshop inclined, feel free to toss some Christmas lights or snow or something on the above Freddy In Space banner and E-mail it to me at mortis45@aol.com! Think of it as a contest...with no prize! Although seeing your creation up top there all month is surely enough of a reward to get you motivated! I'd really appreciate anyone taking a stab and helping to make this place a little bit more Christmasy!
On to the gift! On the first day of Christmas, Freddy In Space gives to you...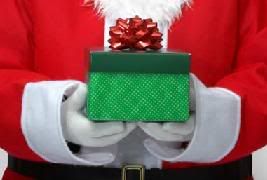 From now through Christmas, i'll be uploading and posting an awesome clip from an awesome Christmas themed horror flick each and every day for your enjoyment! Every day you log on to Freddy In Space, you're guaranteed a badass clip that will no doubt get you in the mood for the holidays! And what better way to kick it off than with the incredible opening scene from
Silent Night, Deadly Night
, one of the best Christmas horror flicks ever made!
Ya see, little Billy's super creepy super crazy Grandpa has just warned him that while Santa does bring toys to the good little boys and girls, he also PUNISHES the bad boys and girls. After Billy tells him he's been naughty this year, Grandpa instructs Billy to run for his life this Christmas Eve! As if this wasn't enough Santa scarring for one lifetime, Billy is then subjected to....
THIS!
This clip is rated R for nudity and graphic grizzly rape and murder by Santa Claus!
Can ya really blame little Billy for growing up to be a serial killer clad in Santa garb? Obviously, due to content like this, this film garnered much protestation (the trailer depicting "Santa" lugging around an axe was shown on national tv at the time!) and the box office suffered heavily because of it. It gained a cult status when it showed up on uncut vhs and, despite the heavy picketing and censorship,
Silent Night, Deadly Night
has gone on to spawn four sequels!
CHRISTMAS BONUS!
And no, it's not an enrollment in the Jelly of the Month club! Here's Siskel & Ebert reviewing (aka trashing)
Silent Night, Deadly Night
!
Check out the sidebar to your right for more horror inspired Christmas gifts! And come back tommorow for another awesome clip! See ya then!