Lay your weary head to rest...
on Leatherface's bloody aproned chest!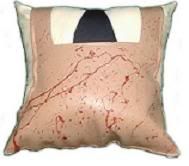 This beautiful Leatherface throw pillow is just one of the many awesome horror inspired home outfitting goodies you will find over at
HORROR DECOR
!
From bloody sheets, shower curtains, and even stockings, to decorative candles and pillows tributing your favorite horror flicks (Grindhouse, Friday the 13th, Nightmare On Elm Street, even The Wolf Man!), Horror Decor has just about everything and anything the horror fan has ever dreamed of having in his or her home or apartment! If you're looking for a unique and awesome gift for the horror fan in your life, look no further!
Just be sure to order by December 10th in order to ensure delivery by Christmas!
Horror Decor....Make Every Day A LIVING NIGHTMARE!
For more Christmas gift ideas, check out the sidebar on the right. And come on back from now till the big day where i'll be supplying you with tons more awesome gift ideas!
Christmas is only 21 days away so ya better start shoppin!