This months pick?
A Real Friend (2006)
A Real Friend is part of the 6 Films To Keep You Awake dvd pack, which houses a collection of six horror flicks made for television by some of the top names in Spanish horror and was essentially Spain's answer to the Masters of Horror series.
The movie tells the story of Estrella. Estrella is a young girl who lives with her mom. Estrella has an imaginary friend to cope with her loneliness, like many kids do. But Estrella's imaginary friend is not like many kids'. Her imaginary friend is the villain from The Texas Chainsaw Massacre, Leatherface!
To be quite honest, that's really all I know about the movie and that's really all I need to know! Best to go into movies without too much information about them, i've found. I've been incredibly interested in seeing this movie ever since I found out about it a few days ago and have not been able to get it off my mind since gazing at this awesome picture of Leatherface in school....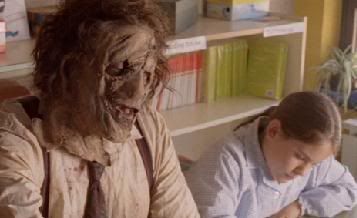 Here's the trailer for the 6 Films To Keep You Awake, which features a few glimpses of the flick :
Let's watch it together!
All you've gotta do to participate is watch the film and type up a review of it on your blog or website by January 24th, link to me in that review, and then e-mail me your link at mortis45@aol.com. Once I post my thoughts on the film come the 24th, i'll return the favor and link to you. It's that simple! If you have trouble tracking down the movie, let me know early on and I might be able to help ya out. Or you can just get a Netflix account, which you should already have ya cheap fuck. And if you have no outlet where you can type up and post your review, you can still participate! Just wait until I post my review and then leave your thoughts in the comments section. Or better yet, if you'd like to see your beautifully hand crafted words appear right on the main page of Freddy In Space, e-mail me a short two sentence or so summary of what you thought of the flick and i'll post it right there in my review! No man will be left behind!
Reviews are due January 24th of next year! Enjoy!