Hope you all had a merry one! I never got around to posting the 25th day of Christmas clip, due to holiday obligations (who the fuck wants to blog on Christmas?!), but i'm here to make it up to you! Here's the final clip of the 25 Days of Christmas Horrors! And unlike the others, this one is not from a movie. It's from real life and it's straight out of one of the many flicks we've been taking looks at for the past 25 days!
The maniacal Santa Claus, Bruce Pardo, was a 45 year old churchgoer and former aerospace engineer who was described by the head usher of the church he went to as "the nicest guy you could imagine." Ya, so was John Wayne Gacy! The Christmas Eve party was taking place at the house of the parent's of Pardo's ex-wife, which gives some clues as to why he did it. That must've been one nasty mother in law, eh?! He knocked on the door just before midnight and shot an 8 year old girl who answered the door right in the face. Thankfully, she survived, but at least eight were killed (a couple more bodies were discovered after that above clip aired) when Pardo torched the place with a homeade device of some kind. He was found several hours later at his home, dead from a self inflicted gunshot wound.
I don't mean to make light of this horrific situation but a man dressed as Santa killing people, in real life as opposed to in the movies, is something I figured you guys would be interested in! And you thought it only happened on the big screen!
And that concludes the 25 days of joyously bloody Christmas fun! I hope you all enjoyed! The Christmas horror content will remain on the sidebar for the next couple days, so check it out while ya can!
I don't have the time to get to it right now, but i'll be back in a couple days to show you some of the things I got for Christmas! For now, i'll leave you with only this ...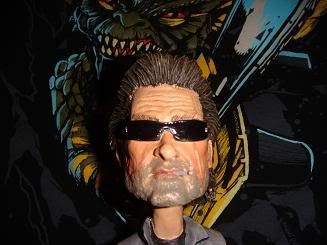 On one last note, congratulations to Wayne Jennings who won the Black Christmas DVD giveaway contest over at my second writing home,
Benevolent Street
!
And to all a goodnight!