I promise this will be my last mention of Christmas until December of next year!
Figured some of you might be interested to find out what I got on the big day, so here goes that. Don't wanna bore, and this is a horror blog, so i'll just post a few of the horror related items I got. Granted, most of the things I got were in fact horror related. I'm not complaining! That's what i'm into!
Lots of pictures ahead! Be forewarned!
First and foremost, the grand prize present of the day (and the one which has kept me away from blogging for the last few days) ....
Playstation 3!
Hallelujah! I have finally gotten with the times! Got a couple Blu-rays with it (Indiana Jones & The Kingdom of the Crystal Skull / Iron Man) and a game (Resistance 2). I haven't yet watched the movies but I did rent The Dark Knight on Blu the other day and it was quite the experience. Those boring old DVD's just feel so bland and VHS-like suddenly! And no, I will never be getting rid of my DVD collection. Resistance 2 is a really awesome game that's taken up a good chunk of my free time lately. Then again, my time is usually free time. Anyone else into that whole Playstation Home thing? Create your own character, walk around the mall talking to/fighting with other people currently on their PS3's? It's pretty amazing and highly concerning for the future of our generation. My name's johnnyboots on there, so if ya ever see a scary looking bearded dude with that name above him in the cyber-mall, don't hesistate to come up and say hello! I picked up Mortal Kombat vs DC with some of my Christmas money and it kicks all kinds of ass, as you could imagine. Superman vs Sub-Zero! Can't beat that! And just wait until you lock your eyes on Sonya and Catwoman in this one ...
Jen got me a whole slew of t-shirts from
Fright Rags
, the best horror shirt company out there. And in fact, the only horror shirts I let adorn my doughy physique. As you can see, she got me the Shining, My Bloody Valentine, Creepshow and Michael Myers shirts. Oh .... and her mom got me this one ...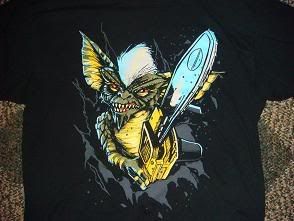 That's the Fright Rags limited edition Gremlins Stripe shirt! Only 200 were made and they were only made available at a certain time of the day a couple weeks back to the newsletter subscribers! This is no doubt the coolest shirt in my arsenal and the way it was packaged and pulled off by the FR boys was truly impressive. It came in this awesome black box ...
... and the tag, which is printed directly onto the shirt, lets everyone know just how exclusive and badass it really is ...
The shirt is completely sold out but if you can track down one on Ebay, I highly suggest you pick it up. Needless to say, I probably won't be taking this baby off for quite some time. My apologies to anyone within 5 feet of me a couple weeks from now. Thanks Joan A. Ross!
Stuntman Mike bobblehead! I had never even seen this thing before Christmas morning and it continues the tradition of my brother finding an awesome horror figure to get me that i've never seen or heard about before. Last year, he got me this Hostel 12 inch figure that turned out to be some kind of bootleg ...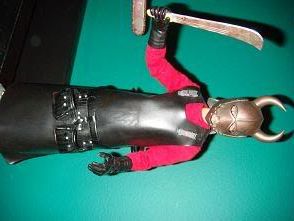 I messaged Eli Roth about it on MySpace after I got it and he thanked me for alerting him about it. Where's my walk on role in Hostel 3, Eli?!
Anyway, the Stuntman Mike figure is awesome and incredibly well done, as always from the guys at
NECA
. His cigarette even comes out of his mouth! Kurt Russel now proudly sits right next to my PS3, bobbing his head up and down in approval as I slay me some virtual zombies!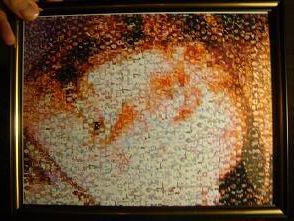 My brother also got me this framed picture of Freddy, which if you could see closer, you'd see is hundreds and hundreds of small horror movie pictures that comprise his face. Let's see if I can get a nice shot showing that ...
It's apparently #10 of only 25 made and it makes an excellent centerpiece for my ever growing (and admittedly lacking) Freddy display ...
Also got a pack of Elm Street playing cards ...
Each one features a different photo from the series. Can't wait to bust these out at the next Blackjack gathering at my place. Oh wait, that's right, i'm barely a man and don't even know how to play Blackjack!
Speaking of Freddy, remember
this
life size Freddy blow up lawn decoration I got on clearance around Halloween time? Well Jen got me the Jason one to go along with it!
That's gonna be one badass lawn come Halloween next year!
And speaking of Jason! The new centerpiece of my coffee table ....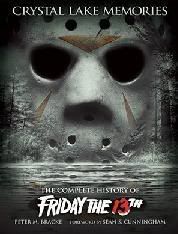 Crystal Lake Memories : The Complete History of Friday the 13th! This book is absolutely chock full of pictures, interviews, and all the info you could ever want on Jason and the Friday series. Over 300 pages of extensive and comprehensive information, and the print is all pretty small! I've only read the foreword (by Sean Cunningham) and introduction thus far, and that took me about 40 minutes to read and i've already learned a ton of stuff. I figure i'll still be reading this thing well into next Christmas season! Any fans of Friday the 13th, DEFINETLY pick this book up NOW.
Last but not least, this one's not horror related, but I had to include it!
Recognize that? It's the moose mug that Clark and Eddie drank egg nog out of in National Lampoon's Christmas Vacation!! I've always wanted one of these and my life feels just a little bit more complete now that I have one. If only I had me some egg nog ...
I'd say Santa was good to me this year! It's just too bad we left the fireplace on when we went to bed Christmas eve ...
Oh well, at least I got a new decoration out of it!
So what did YOU get for Christmas?
By the way, if ya get the chance, I wrote an article earlier today on Benevolent Street about this badass new horror book called Splattered Beauty. It's got a synopsis and even a small excerpt and pretty much all the info you could want on it.
Check it out
and support the young new horror writer Brandon Ford, who has been called the new "Prince (soon to be King) of Horror"!