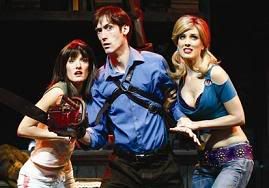 If you have any love whatsoever in your heart for Ash and the Evil Dead flicks (who in their right mind doesn't?!), I strongly encourage you to take 10 seconds out of your day by clicking the following link and leaving your e-signature on the petition contained therein...
Gimme some sugar, baby
Hordes of Evil Dead fans are dying to see the musical adaptation but there are no immediate plans for a US tour. Evil Dead The Musical did have a short Broadway run that was apparently well accepted but the show is now only playing in Canada. This petition is to let them know that there is a demand for such a tour. Help bring EVIL DEAD THE MUSICAL to a city near you!
Lets face it, we're not getting a new Evil Dead flick anytime soon, so this is really the closest we're gonna get to such a thing for now. So PLEASE PLEASE PLEASE sign the petition and help get this baby a wide release! The goal is 10,000 John Hancock's and the current number of signatures is nearing half that. Lets help reach and even exceed that goal!
I had the pleasure of seeing ED : The Musical when it played briefly in New York City and it was an absolute blast. Trust me, i'm about the furthest thing from a fan of musicals as you can get but I truly loved this show. Blood and guts were flying about, hilarious songs were sung, and....what are you waiting for?! SIGN THE PETITION!
Tell 'em Freddy In Space sent ya!