The last batch of horror to be unleashed in 2008! And it's a pretty small batch ...
Event Horizon Blu-ray (1997)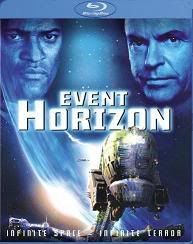 In the year 2047 a group of astronauts are sent to investigate and salvage the long lost starship "Event Horizon". The ship disappeared mysteriously 7 years before on its maiden voyage and with its return comes even more mystery as the crew of the "Lewis and Clark" discover the real truth behind its disappearance and something even more terrifying.
This is an awesome movie that I first saw many years ago during my Sam Neill phase. Didn't we all have one? Mine ended abruptly when I popped Dead Calm into my DVD player, but I guess Billy Zane will do that to ya. This movie should look incredible on Blu and I can't wait to feast my eyes on it. Turn off the lights, crank up the volume, and watch it alone for optimal outerspace-ian terror!
Hellbound : Hellraiser 2 - 20th Anniversary Edition (1988)
Return to the domain of pleasure and pain as Kirsty Cotton is committed to a psychiatric hospital run by the strange Dr. Channard. But when the doctor uncovers the secret of the Lament Configuration, he resurrects the skinless corpse of Kirsty's evil stepmother (WTF?!) and calls forth the legions of the damned led by Pinhead. Now, the doorway to Hell has been re-opened, the brutal cenobites again walk the Earth and the sweet suffering of evil has only just begun.
Believe it or not, I still haven't seen this one. I never really got too into the Hellraiser series and although I own about five of them, this one included, i've really only seen the first in its entirety. From what I hear, the second one is as good as the first so I guess i'll have to check it out at some point. Regardless, it's always nice to see older horror flicks get the special edition treatment. The disc includes the unrated cut as well as 60 minutes of all new featurettes.
Bloodsuckers From Outer Space (1986)
An invisible alien presence invades rural Texas, revoltingly killing its victims, reanimating their corpses, and sending them on a bloodthirsty rampage. Scientists at a local research facility set out to study the phenomenon while top military brass are hell-bent on nuking the bloodsuckers.
Never saw this one, but anything with the title " .... From Outer Space" is usually fun. Plan 9 ... Killer Klowns ...
The Rest Stop!
A low budget, campy, dark comedy, horror film in the likes of Evil Dead, Halloween and Friday the 13th. Based on real unsolved murders that have taken place in Rest Areas all across America.
Usually any movie that compares itself to Evil Dead, Halloween, or Friday the 13th is a complete and utter piece of crap that is doing nothing more than attempting to draw people in by mentioning the names of established and loved classic horror flicks. This movie isn't even listed on IMDb, which should give you an idea of just how low budget it is. In fact, it's not even an official DVD. Amazon states that the disc will be burned onto a blank DVD! I am highly interested in low budget horror filmmaking, but i'm not shelling out the cash to purchase such a film. A rental, on the other hand? Maybe.
What will I be adding to my Netflix queue?
Now that I have a PS3, i'll definetly be checking out Event Horizon. I've been meaning to re-watch that one anyway. That's about it for this week ...
For a complete listing of all the new DVD's coming out tommorow, head over to
Amazon
.
And if you're planning on picking any of the above horror titles up, why not get 'em from my
Amazon DVD Store
. It's no different from buying from the regular Amazon page other than the fact that if ya buy from my link, you'll be helping to support Freddy In Space! And who doesn't wanna do that!