Anyone else a frequent prowler of the awesome do it yourself site
Instructables
? It's basically a massive collection of user submitted DIY projects, ranging from food recipes to custom clothing to...
NECRONOMICONS?!
What fan of Evil Dead has not at one point in time dreamed of owning their own Book of the Dead? Well, this dude Patrick over there who goes by the name of 'onespartan' just posted an awesome
how to tutorial
that will tell ya how to go about fulfilling that very dream! And it's not gonna cost ya a whole lot of dough, believe it or not. Nor do you have to skin anyone, unfortunately. All the materials you're gonna need are probably gonna be laying around your house just waiting to be used! Things like duct tape, scissors, cardboard, paper...it dont get much easier than this!
Roll video...
Being a huge sucker for do it yourself projects myself, and also of course being a huge Evil Dead fan, I knew as soon as I watched that video I wasn't gonna be able to sleep until I put some serious effort into creating my own. And that's saying something considering its now 9am and I never went to sleep last night and I can barely even type right now. It looked simple enough and I felt up to the task, so I went ahead and took a stab at it. I've only completed the front cover thus far (although I built the whole book), but my intention was really to show that anyone, and I mean ANYONE, can birth their own Book of the Dead. So here's what I just whipped up, which only took me about an hour to make!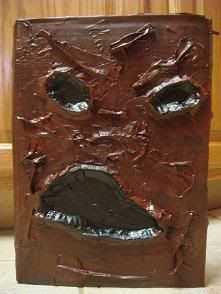 Not bad for a sleep deprived artistically handicapped fella, eh?! I knew duct tape was some pretty versatile shit, but a substitute for human flesh I was not aware it was! The great thing about this project is that ya really don't need to be careful or precise in creating it. It's a messy affair and the sloppier ya slap it together, the better! After all, it's supposed to look like a ravaged old book with decayed human flesh stretched over it! Hard to fuck this one up!

So go ahead! Take a stab at it! RAISE THE DEAD! Give your friend a homeade Necronomicon this Christmas and you'll be sure to be in his good graces for the rest of eternity! And then some!
Big thanks goes out to you, Patrick A. Prejusa. We need more people like you in this world! Check out the website for his show
Monster Cops
and show your appreciation!

Well, I feel pretty accomplished. I can now sleep the rest of the day away without feeling too bad about it...