Freddy In Space gave to me...
To All A Goodnight
in 7 minutes!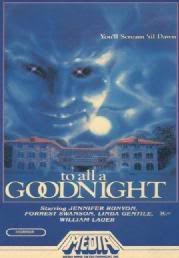 1980's
To All A Goodnight
marks the directing debut, and in fact the only directorial effort, of genre favorite (and one of my personal fav's!) David Hess, who's probably best known for his role as the sleazy Krug from the original
Last House on the Left
. I must say I have never seen the flick as it's not available on DVD yet (not that i'm above watching VHS), but judging from this 7 minute summary compilation video I found on YouTube, it looks pretty badass! Here's what it's about...
To All A Goodnight
is essentially
Prom Night
(both released in the same year) with a killer Santa thrown into the mix. Two years ago, a sorority initiation ended in the death of a young girl. Now, two years later, it's Christmas break at the sorority and a man in a Santa costume is knocking the pretty little sluts off one by one. Whodunit?! Could there be any link to the initiation gone wrong from years prior? YA THINK?!
Thanks to YouTube's
unhinged1980s
, we can watch the entire flick in only seven minutes! Enjoy!
Did You Know?! David Hess began his career as a songwriter. He wrote the song "All Shook Up", which was later performed by and credited to Elvis Presley! He went on to write an additional six songs for The King!
Did You Know?! Part 2! The one time directorial effort is not all that rare in the horror world. Other notable cases? The killer cars flick
Maxiumum Overdrive
, which remains the only film Stephen King ever directed!