Freddy In Space gave to me...
The resurrection of THE GINGERDEAD MAN! To check out the G-Man's birth, scroll down to the post right below this one!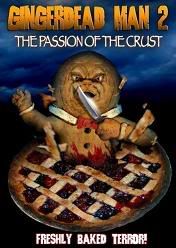 In
The Gingerdead Man 2 : The Passion Of The Crust
, a fictional film titled
Tiny Terrors 9 : Purgatory of the Petite
is being filmed at Cheatum Studios when a box of bakery treats is delivered to set. Inside the box is your usual assortment of donuts and....the Gary Busey gingerbread cookie! Just when you thought it was safe to head back to the bakery! The G-Man's mission this time around is to transfer his soul into a human body so, ya know, he doesn't have to go around killing people as a tiny little cookie anymore.
I'll let this clip speak for itself...
Move over,
Sleepaway Camp
. The Golden Iron award for best death by a curling iron has just been handed over to the Gingerdead Man! Congratulations, big guy!
To check out my full review of the flick, head on over to
Benevolent Street
.