Freddy In Space gave to me...
A very special public service announcement from
Silent Night, Deadly Night
!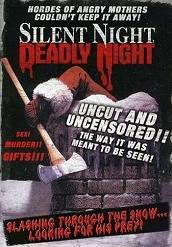 What does Santa do to those naughty boys and girls who decide to steal a sled right out from under a poor innocent good boy or girls bottom?
THIS!
Steal a sled...lose your head!
Who says horror movies can't have positive and uplifting messages?
I originally intended on posting the clip of Linnea Quigley getting hung to a wall on deer antlers but as I looked back on the scene, there was just way too much nudity in it and I thought it best to not upload that. Not because I want to shield all of your young eyes from such vulgarity, but because i've already been kicked off certain video hosting sites before and I really don't want it to happen again! So I figured a decapitation would more than suffice!
To check out the awesome opening of
Silent Night, Deadly Night
, head over to
Day One
of the countdown!
On a totally unrelated but equally important and self promoting note, head over to
Benevolent Street
where i've just posted an article letting you know how you too can smell like a serial killer! I say you too because I currently smell like one, although that has nothing to do with the cologne I talk about in that article...