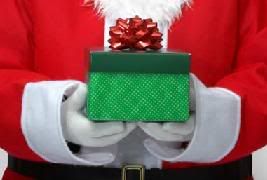 ...The 10 minute finale of
Silent Night, Deadly Night Part 2
!
Billy's younger brother, Ricky, who was also in the car when the parental units were hacked and slashed by the psycho Santa, is all grown up and he's carrying out the family tradition of dressing as Santa and decking the halls with chunks of bodies! In the final 10 minutes of the film, Ricky kills a man in a Santa costume, steals his suit, and returns to the orphanage to seek revenge on the evil Mother Superior, who tormented his older brother years earlier!
Let the horrible acting and bloodshed ensue!
I chose this clip because it's the only time in the film (other than in flashbacks to the first...which comprise about 60% of the movie), where the killer actually dons the Santa suit. For all his other kills, Ricky's in a preppy little blue sweater, which you probably know from seeing that
garbage day
clip all over the internet. Trust me, it was hard for me to not post that clip. Although I guess I just did...
As always, for more Christmas horror fun, check out the sidebar to your right and come on back every day from now through December 25th for an awesome new neatly wrapped clip!