Freddy In Space gave to me...
The wildy bizarre Silent Night Deadly Night 5 : The Toy Maker trailer, starring...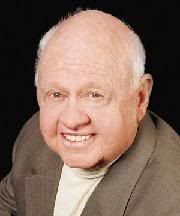 MICKEY ROONEY?!
Yep, that's right! Rooney plays Joe Petto (get it?!), an evil toy shop owner who makes toys that will kill people come Christmas morning. Kinda like Halloween 3 for the Christmas season!
On to the trailer!
How the hell did an established Hollywood star like Mickey Rooney end up in the fifth installment of a cult classic horror franchise?!
The only explanation I can come up with is that Rooney is more of a whore for Christmas than even I. If you take a gander at his filmography, you will see that Mick has appeared in an exhaustive list of Christmas flicks including ; The Year Without a Santa Claus, Rudolph and Frosty's Christmas in July, Home For Christmas, The Happy Elf, A Christmas Too Many, Wreck The Halls, and even that awesome Full House Christmas special where he played the angry novelty shop owner without a family who tormented Uncle Jesse! Perhaps he's just down for any holiday film role he is offered! It also should be noted that his real last name is Yule, which suggests that maybe he was born and bred to be a Christmas icon!
But get this! Furthering delving revealed to me that Rooney has a bit of a history with the Silent Night franchise...
When the original Silent Night was initially released, he wrote a letter of protest stating that the "scum" who made it should be "run out of town" for having sullied the sacredness of Christmas. 7 years later, he appeared in Silent Night Deadly Night 5!! What gives, Mickey?!
DID YOU KNOW!? Mickey Rooney is in the Guinness Book Of Records as the actor with the longest career on both stage and screen!
DID YOU ALSO KNOW!? Rooney's not the only already established legend who appeared in a late sequel in a horror franchise. Michael Caine appeared in Jaws 4 : The Revenge in '87!
ONE LAST NOTE! If ya head over to
sndn2
's YouTube channel, you can watch Silent Night Deadly Night 5 in its entirety for absolutely free right this instant!