Happy Halloween everyone and thanks for continuing to read my blog! The day has finally come, and I still really have no plans. If I can just scare some trick or treaters, watch a couple horror flicks, and drink a few pumpkin beers, i'll be pretty well satisfied. My original plan was to actually dress up for once this year and do something relatively exciting, but there's not much to do around these parts. I wanted to pick up a spiffy Michael Myers costume and prowl around the town, but I really couldn't afford it. Any decent Myers mask out there (I wasn't about to walk out of the house wearing
this
on my head) goes for at least $60 bucks then ya gotta pick up the whole jumpsuit deal, so I just kinda gave up on it. Although a Myers costume would definetly come in handy several other times throughout the year, so it wouldn't just be a one shot type deal, but o well. And ya ya, I know being Mikey for Halloween is nothing original, but i've always wanted to dress up as him. It's been a kind of lifelong dream of mine. Maybe next year.... No fuck that! Definetly next year! Mark my words!
Whatever I do end up doing today/tonight, i'll of course post all about it sometime this weekend, for anyone who cares.
For any fans of
Fright Rags
t-shirts (if you're not one, you should be!), they've got an awesome 31% off deal on any shirt today only. No catch. Just pick a shirt ya want, enter the code HALLOW31 in the coupon box by midnight, and get your 31% off. It's that simple. They got a brand new design from the Creepshow installment
The Crate
which is totally fuckin awesome as usual. I may have to pick this one up myself.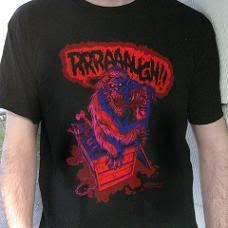 Hm, what else did I wanna say. Oh ya. Just saw over on YouTube that Wes Craven was asked to pull a couple of his favorite Halloween themed videos from the site and present them on his channel. There's a few interesting things on there, so be sure to
check that out.
Last year, they had Rob Zombie do the same thing and in case ya missed that,
check that out
too.
Also, I didn't even realize this but Wrong Turn 2 director Joe Lynch has his own blog on blogger and he just posted all of the horror movies he's gonna be watching with his lady for the big day. He's got some good shit on there (fellow Halloween 3 fan!) and if ya need any suggestions for what to watch today, he may be able to help ya out. So head on over to
Lynch's blog
for that.
I guess that's really all. I gotta get to bed so I can get up relatively early and make the most of the day. So again, Happy Halloween and do everything you can to celebrate tommorow because when it's gone, it's gone for a whole long year! And don't forget to get out to all of the Halloween stores in your area bright and early on November 1st and stock up on all the clearance shit ya can before they head outta town for the next year! Hm, why doesn't someone just go and open up a year round Halloween store...
UPDATE! I just noticed that my post on
The Many Masks Of Michael Myers
is featured on the Imdb homepage hit list (2nd time!) for the day and all weekend! What an awesome fuckin Halloween gift. Three full days of worldwide exposure on the greatest weekend of the year. What more could I ask for? Hopefully this brings a lot of new viewership. Ok, now i'm really going to bed. If I can even sleep amongst all this excitement.