You gotta check out this awesome movie
Transsiberian
that I just watched. It's available for instant viewing on there, just
follow this link
!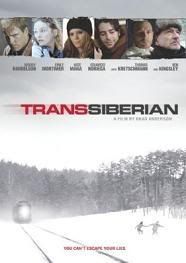 Without giving too much away, it's about an American couple (Woody Harrelson and Emily Mortimer) having problems with their relationship who decide to board the
Trans-Siberian Railway
in an effort to smooth things out by embarking on the journey of a lifetime with one another. While on the train, they meet a foreign couple who appear, at least to us, to have something more going on than their friendly smiles suggest. And boy do they ever. The two couples send each other on a drug, murder, deceit, and narcotics agent (Ben Kingsley) filled ride that will forever change all four of them, in varied ways. And that's all i'm at liberty to say!
I'd suggest not even watching this trailer as it gives some stuff away and i'm of the mind that it's better to go into movies without knowing too much about them, but i'll provide it for those who need to see a trailer before they see a movie ....
The movie was directed by Brad Anderson, who you probably know from
Session 9
and
The Machinist
. I'll admit I haven't seen
Session 9
in many years but it didn't do much for me when I did see it. I loved
The Machinist
but didn't care for Anderson's
Fear Itself
episode,
Spooked
, which was pure garbage. Needless to say, I was on the fence about him as a director but I now see what all the hoopla is about him.
Transsiberian
is a hell of a suspenseful and intense thrill ride and I highly recommend ya check it out. Think of it as
Hostel
for adults!
If you've seen it or get around to seeing it, please leave a comment with your thoughts as i'd love to discuss it more in depth!
"With lies, you may go ahead in the world, but you may never go back."