Let me preface by saying that i'm somewhat of a collector of VHS horror movies. I've got a few big boxes of them and for some reason I can't seem to resist picking up a sun faded copy of say, A Nightmare On Elm Street, when I see it for sale at a yard sale or some such event where people would still be selling VHS. I'm sure it's got something to do with my childhood and the fact that I used to rent all those sun faded movies in my youth, but there's just something about watching the classics in VHS form. In any event ...
Jen and I went snowboarding in up state New York yesterday (first time and yes, i'm currently in unspeakable pain) and we hit up a Barnes & Noble on the way home which happened to have all kinds of used VHS for sale. Being that i've never seen such things at Barnes and being that i'm a VHS junkie, I spent a good portion of time perusing their collection for the one gem that I surely would find. And I found it! I'm not a big fan of this movie (although I haven't seen it since probably the early 90's) but for $3 (plus 10% Barnes member discount!) I picked up this screener copy of Wes Craven's Shocker ...
Pretty cool, eh? I figured a screener copy like this would surely be rare and may even be worth something, so I couldn't resist. Not to mention it's just a cool little collector's item. The back has all kinds of info about the movie and lists the street date as March 22, 1990. It goes on to say that "this cassette is property of MCA Home Video and is being provided for promotional use only. Any duplication or sale of this cassette is strictly prohibited." And yet this was for sale at Barnes & Noble! I haven't yet checked out what's actually on the cassette being that my VCR isn't even hooked up at the moment, but i'll get around to that soon enough.
I did some research when I got home and found out that while such screening cassettes are pretty rare, they're really not worth much. Companys would send out these copies of movies to retailers, as press kits of sorts, and then they could determine whether or not they wanted to purchase and sell them at their stores based on them. And I now own one of those screeners! So while it's really not worth much, it's a pretty cool new little addition to my collection. Who would've thought you'd ever find something like this at a major retail store!
I guess the bottom line is, if you see a big batch of VHS laying around for sale somewhere, browse through them! I came across a whole yard full of VHS last summer at a yard sale down the road from me and it turned out that the woman selling them used to own a video store that had the largest selection of horror flicks on the east end and she now had no use for them! Needless to say, I spent pretty much that whole weekend going through the thousands of movies on her lawn and came out with a few handfuls of gems. My favorite was probably this copy of Texas Chainsaw with some pretty badass cover art ...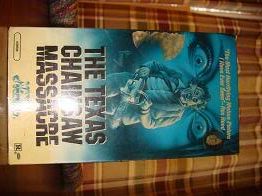 I also picked up a copy of The Town That Dreaded Sundown, which I ended up selling for $25 on E-bay. Those horror flicks that aren't out on DVD yet sell for a pretty penny, so become familiar with which ones haven't yet been given the DVD treatment and don't just walk past a bunch of VHS movies with a for sale sign on them because you're all hip and can't be bothered to watch or even touch anything that's non Blu-ray!
You will always hold a special place in my heart, VHS cassettes!