But i'm posting it anyway! I just came to a startling realization! I probably should have come to this realization a good couple years ago, and I think maybe I even did, but it didn't really hit me until now.
Lauren German, who played the lead character Beth in Hostel Part 2, is the hitchhiker chick who blew her brains out in the Texas Chainsaw Massacre remake!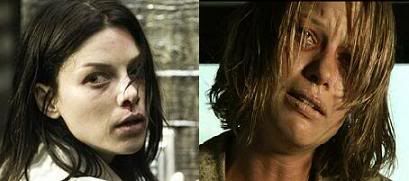 I think we've got a new next generation scream queen on our hands! First she pulls a gun out of her womanhood and then kills herself with it, then she cuts off a dude's manhood and feeds it to a canine! From being a sniveling suicidal Leatherface victim to being a wealthy empowered woman who beat the unbeatable Elite Hunting system, this chick is the real deal!
By the way, is her suicide scene at the beginning of Chainsaw not one of the coolest scenes ever in a horror flick (sorry Edwin Neal!)? I could barely believe what I was witnessing the first time I saw the movie. Did that chick really just pull a gun out of her hoo hah? And then blow her own brains out with it?!?! I thought surely I must have gotten the wrong impression from the scene and she really just pulled it out from under her or something. But no! It truly did come from her nether regions! God bless you, Lauren German!
But there is one thing about that scene that realllllllly bothers me ....
Am I the only one that can't get past the fact that once her dead body falls back against the seat, it's far too obviously a dummy?
I realize in order to get that through the head shot they kinda needed to use a dummy, but it just looks too much like one of those CPR dolls I had to revive in health class ...
I never did pass my CPR certification test ...
By the way, check out an alternate suicide scene from the awesome 2 disc Platinum Series release where German's ear flys off and hits the gang!
O, and thanks to the blog
Live For Films
for mentioning and linking to me earlier today! Check that site out to keep up to date on all the latest movie news, trailers, and so on and so forth!