Who doesn't!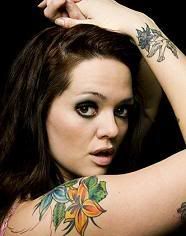 Brenna Lee Roth (above) needs to raise money for an independent horror film that she's producing (Till Death Do Us Part) and she's got seven spots on her arm up for sale! Get your face, name, company logo, or whatever you want tattooed on her body and help support her film in the process! If ya can't afford the $400 price tag for such an honor, you can still pitch in in several other ways!
You're gonna have to head over to my second writing home,
Benevolent Street
, to find out all the information! I know, I know. Clicking a link and navigating to another site is such a hassle. Deal with it!
Help a scream queen (and indepedent horror cinema) out, will ya!