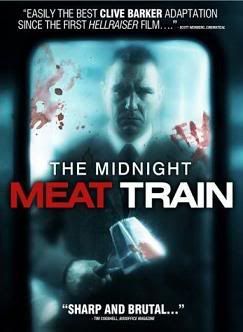 Clive Barker, you sick motherfucker! I know i'm a bit behind the curve on this one, but I finally just took a ride on The Midnight Meat Train and what a fucking awesome ride it was. This is the horror movie i've been looking for. This is the one I wade through hundreds of shitty films to find. This is the real deal and it has made me incredibly excited about the future of horror. Thank you Clive Barker and thank you Ryuhei Kitamura for making a kickass original horror film and shame on you Lions Gate for dumping one of the best horror movies on 2008 into dollar theatres like a piece of garbage.
The Midnight Meat Train, based on the Clive Barker short story of the same name, centers around a photographer who realizes that he needs to up his game in order to really capture the grit and grime of New York City that he so desires to depict. In this quest he becomes fascinated by a mysterious butcher, named Mahogany, who he soon learns is the brawn behind a long running sinister operation deep below the city's streets. And Mahogany soon learns that he's being followed .....
Just when you think it can't possibly get any more bloody and brutal ..... IT DOES! Meat Train really shines in the gore and brutality department and provides a plethora of incredible, and dare I say beautiful, kill scenes the likes of which we have never seen before. Absolutely NO punches are pulled. The gore in this movie is the real standout for me, but don't take that to mean it's a mindless splatter flick, because it is not. It's got a hell of a lot of depth and story behind it, but my god. So fucking brutal. And the amazing thing is, most of the gore is CGI and quite noticeably so. Now if you know anything about me and my relation to horror movies, you know that I absolutely detest CGI, especially as a replacement for practical gore and blood effects. But ya know what! I loved the CGI gore in this movie! It's so stylized and like I said, looks absolutely nothing like anything I have ever seen before in my years of horror movie watching. It's comic book style gore and that is clearly the directors stylistic intention. It's all incredibly breathtaking and really must be seen to be believed. If CGI gore was ever justified, it's in this flick. Kitamura proves that if done right, it can be just as effective and awesome as the practical effects of horror movies past. He also solidifies the fact that nobody does horror and stylish original kickass movies better than the Japanese. But we made that realization long ago, right?
Vinnie Jones steals the show as Mahogany and he's one of the best horror villains i've seen in many years. Kitamura states in one of the special features that the aim he and Barker had right off the bat was to create a new horror icon out of Mahogany, and I really think they, as well as Jones, have done just that. He speaks but one line in the entire film, towards the very end, but manages to carry a depth and tragedy to him throughout that makes him one of the most memorable and complex of recent years. There's little explanation to many aspects of the character, which in my opinion was a brilliant idea. You know there's a lot going on behind the man, and your mind kind of fills in the blanks in that department. Is he the latest and greatest horror icon? He just might be.
Midnight Meat Train was totally not what I expected and I say that in the best way possible. It's an absolute must see and even must own for all horror fans. Like Clive Barker himself stated, despite the fact that it got dumped in dollar theatres and onto DVD, Meat Train will find its audience and will no doubt become a lasting favorite for horror fans for many years to come.
Take a ride on the Midnight Meat Train ASAP. You will not regret it! You might need a shower afterwards though ....